PIVOTING WITH ... SCOTT RC LEVY AND THE FINE ARTS CENTER THEATRE COMPANY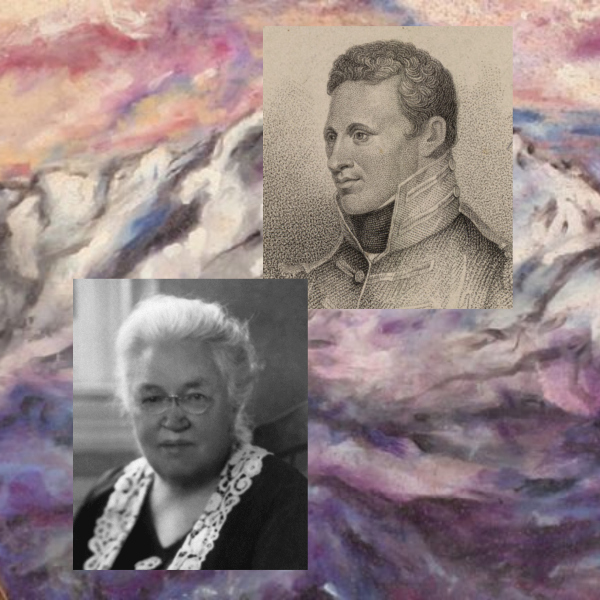 Poet Katharine Lee Bates and Zebulon Pike (above) are among the first subjects of the new audio anthology series 'Of Spacious Skies.' Featured artwork by Alyssa Washburn.
Tapping into Colorado Springs history provides employment opportunity for more than 60 Colorado actors.
"Pivoting With ..." is a new, ongoing series talking with members of the Colorado theatre community about how they are adapting to changes in their creative and personal lives as the COVID pandemic continues. Today, Colorado Springs Fine Arts Center Producing Artistic Director Scott RC Levy (pictured) talks about creating an original, 12-part audio-play series.
What are you doing to pivot? We've done a lot, actually – creating content for FAC Connect (a new digital hub for all Fine Arts Center programming), streaming our theatre production of "The Miraculous Journey of Edward Tulane," and providing about 100 students with virtual theatre classes and camps this summer. For the fall, not only are we providing six different FAC Theatre School classes for all ages, but we have launched "Of Spacious Skies," a commissioned, 12-episode audio-play series with every original episode about Pikes Peak in some way, shape or form. The first episode, written by Mêlisa Annis and featuring Lynne Hastings and Anna Faye Hunter, looks at the lifelong relationship between poet Katharine Lee Bates (she wrote "America the Beautiful") and college professor Katharine Coman. Each episode, lasting about 20 to 25 minutes, also has a visual companion piece for purchase on BroadwayOnDemand. Watch a free visual preview episode here.
'To provide both creative and financial opportunities for artists throughout Colorado is a dream come true.'
Why are you doing it? I have always had a love for the Golden Age of radio, and a love for the community of artists who are struggling now. So we were able to commission a team of seven writers who all have a previous relationship with the FAC, and auditioned about 100 actors for these 12 episodes. About 60 will be appearing in the series. To be able to create something entirely new and provide both creative and financial opportunities for the team at the FAC Theatre and artists throughout Colorado is a dream come true.
Words of encouragement for others who are now pivoting their way through 2020? In his seminal book "The Empty Space," Peter Brook talks about a fundamental truth: You can take any empty space and make it a theatre. And what defines a space certainly has changed, but the creativity I am seeing from my own team proves that the muscle of, "Yes, and…" that is so imperative for all of us theatre artists can help to make room to redefine what theatre is and what it means to make theatre. We're seeing that through our virtual education programming and audio-play series. It's a wild frontier, and until we can make theatre again in the ways that most of us know and love, that doesn't mean that the theatrical space needs to remain empty. Fill it, however you want.
How can people find you?
This week's episode: "Expedition Log" by Jessica Kahkoska. It's a modern comedic interpretation of the real-life trek of Zebulon Pike, the man for whom Pikes Peak is named, and his small crew. This parody of adventure-bro culture is an an incisive look into what we consider to be "classic" Colorado Springs history. Featuring John Ashton, Abby Apple Boes, Nicholas Cline, Micah Speirs and Sam Pribyl.
Compiled by Senior Arts Journalist John Moore. Are you pivoting? Email John at culturewestjohn@gmail.com.
Read more on fall audio plays: