Yes, and…Comedy Improv
(Grades 4-12)
Participants take part in a variety of theatre and improvisation games. From partner improvs to group improvs, everyone gets a chance to play. Students develop self-confidence, learn about comic timing, and strengthen cooperation and listening skills.
Drama Sampler
(Grades ECE-5)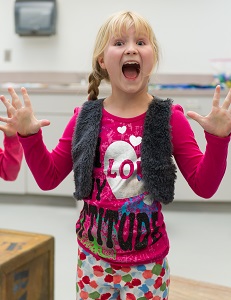 Tailored to each age group, this workshop of theatre games, improvisation, pantomime, and movement serves as a drama overview to stimulate imagination and encourage vocal and physical creativity. From tongue twisters to team-building games, participants learn skills and techniques used in the world of acting.
Interactive Storytelling
(Grades K-2)
Characters, settings, problems, and solutions make up the basic elements of stories. Using familiar folk and fairy tales, students identify and discuss these elements and then work in small groups to create and present their own stories.
Poetry in Action
(Grades 2-12)
In this fun workshop that incorporates drama and literacy, students create and perform short scenes based on well known poems. Youth explore pace, characterization, gesture, emotion, space, and energy to engage with and reimagine text. As students work together in groups, they learn about teamwork, the creative dramatic process, and how to engage more completely with literature.
Swashbuckling
(Grades 4-12)
Learn how actors create those stage and scene battles without pain! Students learn the simple terms and techniques for hand-to-hand stage combat, as well as introductory fencing techniques.
Shakespeare's Stage
(Grades 4-12)
"All the world's a stage!" Participants explore Shakespeare's world in this acting workshop that combines literature with the performing arts. Fun tongue twisters from Hamlet, fairy scenes from A Midsummer's Night's Dream, and acting games give participants a brief look at this famous playwright. Discover creative Shakespearean phrases and ease the understanding of Shakespeare's dialogue through a trivia game and original comedic radio play based on six of Shakespeare's works.
Playmaking
(Grades ECE-5)
Participants are introduced to acting concepts through a series of creative activities. Students then become actors in an adapted version of one of the plays listed below. Given costumes, props, and a few key lines, participants magically bring each story to life! Plays available for Playmaking include:
Journey to Treasure Island (Grades 3-5)
Red, the Pirate Queen, is the villain in this play in which pirates maneuver to take over the ship and find the buried treasure in this humorous take on a classic tale.
Hansel and Gretel's Magical Fairytale Adventure (Grades 1-5)
This workshop combines a variety of fairy tales with Hansel and Gretel as they set out on an adventure encountering characters from classic children's stories.
The Rainbow Fish (Grades ECE-2)
Based on the book, the journey of the Rainbow Fish comes to life in this whole group play about friendship.
Follow Max on his journey to meet the Wild Things in this interactive play of a favorite childhood story.
Horton Hears a Who (Grades 1-4)
Explore the Jungle of Nool! Where the silly gets serious as students recreate Dr. Seuss' Horton Hears a Who.
The Seven Dwarfs (Grades K-4)
A comedic adaptation of the classic tale where the setting remains the same, but the dwarfs have been changed to set the scene for a silly adventure!