Drama Sampler
Tailored to each age group, this workshop of theatre games, improvisation, pantomime, and movement serves as a drama overview to stimulate imagination and encourage vocal and physical creativity. From tongue twisters to team-building games, participants learn skills and techniques used in the world of acting.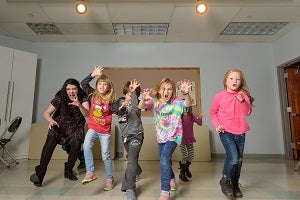 Hippos to Hedgehogs: Imaginative Play
Children explore connections between body, mind, and imagination as they are invited to physically create a variety of animals and objects. The instructor uses recorded music, percussion instruments, and handclapping to guide imaginative movement and creative play. Students learn focus, listening skills, and gross motor skills.
Playmaking
Participants are introduced to acting concepts through a series of creative activities. Students then become actors in an adapted version of one of the plays listed below. Given costumes, props, and a few key lines, participants magically bring each story to life! Plays available for Playmaking include:
● The Rainbow Fish: Based on the book, the journey of the Rainbow Fish comes to life!
● Grumpy Monkey: Jim Panzee is in a terrible mood, but his jungle buddies can't understand what's wrong in this story that explores feelings and friendship.