PIVOTING WITH ... COSTUME DESIGNER MEGHAN ANDERSON DOYLE
The Arvada Center's 'Small Mouth Sounds,' with costumes designed by Meghan Anderson Doyle, came within hours of opening when the COVID shutdown began in March. Matt Gale Photography.
Award-winning costume designer brings her creativity and compassion to new role as one-on-one Special Ed Paraprofessional
"Pivoting With ..." is an ongoing series talking with members of the Colorado theatre community about how they are adapting to changes in their creative and personal lives as the COVID pandemic continues. Today: Sound designer Meghan Anderson Doyle. Visit her web site here.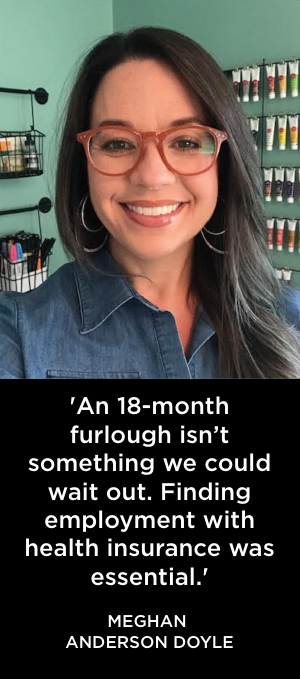 Meet Meghan Anderson Doyle B.C. (Before COVID): 2019-20 was my 14th season as a Costume Design Associate with the Denver Center for the Performing Arts. As a full-time seasonal employee, I designed costumes for 35 DCPA Theatre Company, Off-Center and Cabaret shows, while assisting out-of-town designers on their projects as well. I also have designed costumes for nearly 30 other Colorado theatre companies since 2010. I was in the midst of the design process for two shows with Colorado Shakespeare Festival, and we were only a few hours away from opening the play "Small Mouth Sounds" at the Arvada Center, when the quarantine shutdown began. For the Arvada Center, I also designed costumes for "The Electric Baby" and "The Drowning Girls." (Note: "Small Mouth Sounds" is currently scheduled to return February 26-May 2, 2021.)

What are you doing to pivot? I am currently employed by Denver Public Schools as a one-on-one Special Education Paraprofessional.
What is a Special Education Paraprofessional? We assist students with special needs under the direction of a certified teacher. Our role is to affirm their abilities and care for their physical and emotional health. I work with one third-grade student to set them up for success and navigate the online/in-person educational world we are currently in. It's an incredibly rewarding position, and it means so much to have a meaningful job. With nearly 15 years as the Head of Design for the DCPA's summer educational program, I have experience that I was able to apply to another field. I am incredibly grateful that Denver Public Schools and the administration at Eagleton Elementary School looked at my transferable skills and took a chance on me.
'I am incredibly grateful that Denver Public Schools looked at my transferable skills and took a chance on me.'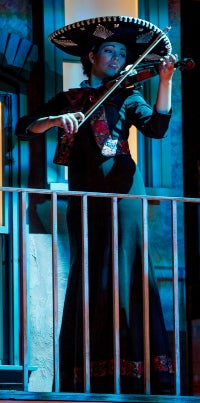 Why are you doing it? My wife and I are both furloughed from the DCPA until at least October 2021, and our health-care subsidy was set to expire at the end of this December. Overnight, we went from a two-income household with health insurance to relying solely on unemployment insurance and our savings. An 18-month furlough isn't something we could wait out. Finding employment with health insurance was essential.
Pictured at right: The DCPA Theatre Company's 'American Mariachi,' designed by Meghan Anderson Doyle.
What are your words of encouragement for other local creatives who are now pivoting their way through 2020? I am trying to focus on the positive things right now, without discounting the difficulties and emotional roller-coaster that come with big changes. I'm building new skills, learning different approaches and practices, as well as stretching outside of my comfort zone. I'm able to devote more time and energy to my home life and seek out new creative outlets. I really do miss my life in theatre. It's impossible not to grieve that loss. However, I do know that this situation is temporary, and I hope that in this intermission our industry really makes the effort to reinvent and rebuild in a healthy and more equitable way. I look forward to expanding my own skill set and bringing that growth and new perspective back into the arts.
Compiled by Senior Arts Journalist John Moore. Are you pivoting? Email John at culturewestjohn@gmail.com.
Denver North High School graduate Meghan Anderson Doyle won the Colorado Theatre Guild's 2020 Henry Award for designing 'A Doll's House' for the DCPA Theatre Company. Photo by Adams VisCom