Tour of the Arvada Center
When people drive into the Arvada Center, the first thing to stand out is our sculpture field. These large-scale pieces always make for a scenic route along the entrance. Also featured outside the building is our friend Squiggles, the giant serpent and interactive sculpture found in our park. They seem to be friends with every kid that visits as almost all of them are ready to rave about Squiggles like it's their best friend. There is no one more popular than Squiggles in this arena.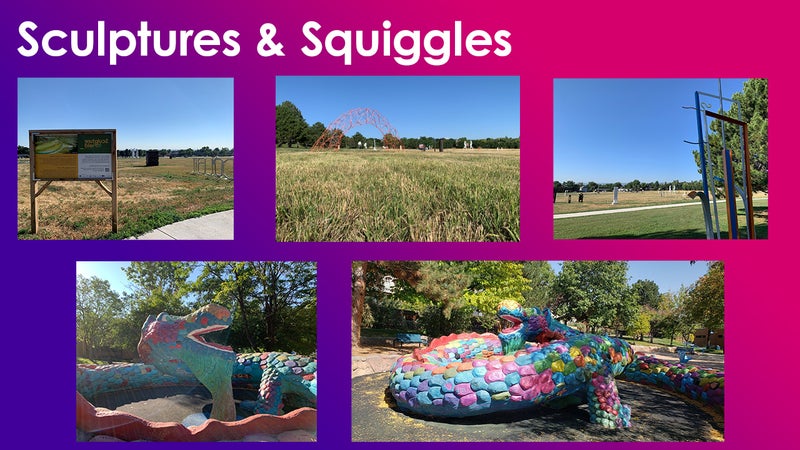 Summer Camp Programs
This summer, the sound of cheerful kids from summer camps is what filled the building with life and it's almost always the first thing I noticed and heard every morning. They were incredibly excited and it's no wonder why. They're getting to participate in arts programs that deal with visual arts, theatre, and music and they get to do all this around other kids their age who are nerding out over the same stuff. Who wouldn't be excited? Their enthusiasm is contagious and it's hard to be upset while they're around.
The Box Office
Though the kids are the first thing to stand out, usually the incredibly kind people at the Box Office or security are the first people to greet you. Though I've met a lot of hard-working people in my time here, I don't think anyone works harder than our Box Office staff. They are constantly and consistently manning the front desk and the phones, making sure patrons are well taken care of. While the entire staff, as a team, is a great machine with lots of moving components, we would not be functioning properly without them and I'm grateful we have such great people at our Box Office.
Theatre
One of the big attractions of the Arvada Center is its theatre productions. I, personally, was never big into theatre growing up, so I didn't realize how much of an undertaking it was to host shows like these. So many people are involved to make each theatre production happen. Aside from the director and cast, there's also our sound and light engineers, costume designers, prop designers, carpenters, scenic designers, curtain pullers, musicians, choreographers, photographers, videographers… and I am sure I am forgetting more. There are a ton of wonderful people working hard to make each show a memorable one.
Not only that, but we offer two stages. Our Main Stage Theatre holds larger productions and our Black Box Theatre makes for more intimate experiences. With summer coming to an end, The Arvada Center is gearing up for our next theatre season. With productions such as Beautiful: The Carole King Musical, The Laramie Project, Cinderella, and more it's looking to be a season worth remembering.
Want to know more about our theatre productions? Click here!
Concerts
During the summer, patrons can look forward to our concerts at The Arvada Center Outdoor Amphitheatre. With lively performances from musicians and bands such as that of Indigo Girl's folk rock beats, Keb' Mo's soulful country blues, Baaba Maal's West African electronic music, Collective Soul's rock music, and so much more there's always a fun and interesting performance around the corner each summer. With the Arvada Center you don't want to miss out on a single beat!
Want to rock out at The Arvada Center? The only sin is waiting too long. So click me now!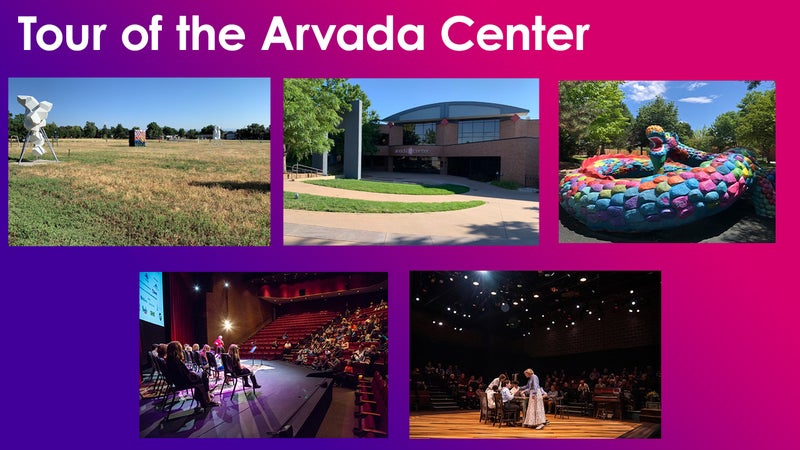 Galleries
As someone who gravitates towards art I'm consistently giddy about what's going on with our galleries department. Our most recent exhibition, "Summer of Drawing" focused on challenging the idea of drawing. That was exciting to see because a lot of them had stunning compositions that would've already stood out from across the room at thumbnail size, but they were done at a large scale, making them that much more fantastic to see in person. I was lucky enough that the opening reception for those galleries landed on the same week as my first week of being an intern.
It was great to see everyone so excited about the galleries, especially for the artists that were able to make it out. They were so personable and ready to share what they had done. It was a great highlight of an already amazing first week. With the Galleries being free and open to the public, I would highly recommend taking the trip out to visit.
To find out more about our galleries click on this!
Education
We also have educational programs running in the background all throughout the Center. Learning doesn't stop at school and here at The Arvada Center, we offer several types of classes for kids ages 3 to 103. There's a wide variety of classes including dancing, ceramics, painting, drawing, pilates, acting, and more. With a healthy selection of teachers there's a class here for anyone and everyone. Not to mention that this is a great way to meet new people with similar interests.
I don't always want to know more about our classes, but when I do… I click this!
ACES
As if that wasn't enough to make our facility seem busy and buzzing with life, we also have ACES or Arvada Center Center Event Space. People can and do reserve some of our spacing for events such as expos, wedding receptions, conferences, and more. It's such a great and positive environment, I'm not surprised that we are regularly hosting events and festivities such as these. It's a great space to be in!
Want to know more about reserving spaces? Check out ACES!