NEW ARVADA CENTER VIDEO OFFERS DIVERSE SLATE OF HOLIDAY STORIES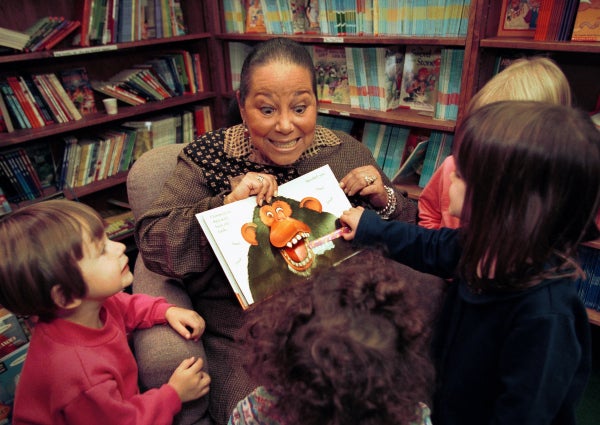 Pictured: Sue Leiser reads stories to children at a local bookstore in 2010.
'Religion is universal. Holidays are universal. And happiness should be universal.'
By John Moore, Senior Arts Journalist
During this unprecedented year that put a stop to traditional indoor theatre, the Arvada Center has been busy creating a wide variety of alternative storytelling experiences. Already this holiday season, the Arvada Center has offered the radio play "A Child's Christmas in Wales," the original full-length virtual holiday comedy "The Family Tree," and opened an online art market offering homemade holiday crafts by local artists.
"We are very proud of the variety of holiday programs the Arvada Center has produced," Communications Director Marcus Turner said. "However, when we looked around, one area that we felt was missing was a program geared toward families."
The Arvada Center's "Innovation Task Force" brainstormed the possibilities, mindful that every family celebrates the holiday season differently and each according to their own beliefs, traditions and rituals.The result is "Stories and Songs to Celebrate the Season," a multi-denominational online video experience that is now available on demand through January 3.
This program is not intended to be "something for everyone," Turner said. All of it is meant to be meaningful to everyone.
"This program will hopefully open your eyes to a holiday that you maybe didn't know before," he said. "That is the great joy of this holiday season: We can celebrate and learn."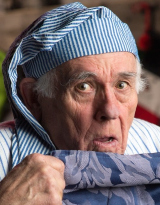 "Stories and Songs to Celebrate the Season" features stories and performances by the Kwanzaa Committee of Denver; veteran actor Sue Leiser reading short Hanukkah tales; Jim Hunt (pictured right), a member of the very first Arvada Center acting company in 1976, returning to present a story for Christmas; and an appearance by Santa Claus.
"We were proud to work with a variety of partners on this project, including Rabbi Benjy Brackman and the Chabad of NW Metro Denver and the Denver Kwanzaa Committee," Turner said. "Our sincere hope is that families have an experience with their children that will engage in conversation about different types of holiday celebrations."
Leiser tells the story of "The Forgotten Menorah," a gentle tale of Jewish pride and self-acceptance. "It's about this little menorah who's been forgotten in an old antique store," Leiser said. "He knows that he is different because people come into the store and look at all of the other beautiful candlesticks that had just one candleholder. And and because he had nine, he would say to himself, 'What's the matter with me?'
"Well, the little menorah just sat by himself on a high shelf, where it was never seen or dusted. After a while, it had cobwebs growing between its fingers. Well, one day a customer brings in this huge menorah for its annual cleaning, and it was the first time the little menorah ever saw anyone who looks at all like him. And so the big menorah tells him the meaning of the menorah. And he says to him, 'You must be proud that you are different.' And so the little menorah cleans himself up and stands tall."
It's a sweet, happy story. And "right now, what we need most is to be happy, because there is too much unhappiness surrounding our world," Leiser said. "These stories are for everyone because religion is universal. Holidays are universal. And happiness should be universal."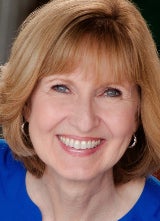 "Stories and Songs to Celebrate the Season" is directed and curated by Julie Payne (pictured right) of both the Arvada Center's Theatre Education division and Front Range Youth Symphony.
"Julie brought a wealth of experience in producing programs for children and families to this project," Turner said. "Having adapted and written many different plays for children with her husband, David Payne, she reached out to local actors to tell these holiday stories."
The program was originally conceived as an in-person event designed to showcase a diverse slate of holiday celebrations, but it went through several iterations as positive COVID cases rose sharply this fall.
"As newer, stricter health guidelines were handed down, we knew we had to re-evaluate how this program could still take place," Turner said. "We felt it was important for us to offer our family audiences some kind of holiday entertainment, so we settled on a virtual program that would be available for families to view as many times they want."
John Moore was named one of the 12 most influential theater critics in the U.S. by American Theatre Magazine during his time at The Denver Post. He is now contributing reports for the local theatre community for ArvadaCenter.Org. Reach him at culturewestjohn@gmail.com.
'Stories and Songs to Celebrate the Season'
What: A virtual holiday celebration for all ages
Director: Julie Payne
Dates: Available through January 3
Information: 720-898-7200