"

Be open, learn from whoever - you can learn something from everybody..."
An interview with ceramics artist Luanne Burke
Story and photos by Leslie Simon
Artist Luanne Burke has been a part of the Arvada Center Ceramics program for 23 years, and we spoke with her about what makes the Center a great creative home.
As her vision has decreased over the years, she shared how her artwork has changed, and how Arvada Center staff are able to help her visions come to fruition.
Arvada Center: How did you initially find yourself taking art classes at the Arvada Center?
Luanne: I came here about 23 years ago, as I had just moved back to the Front Range and decided that I was going to do art. I found out about the Arvada Center since I was living just down the road in Wheat Ridge, so I signed up for my first class, and Bebe (Alexander) was my first instructor.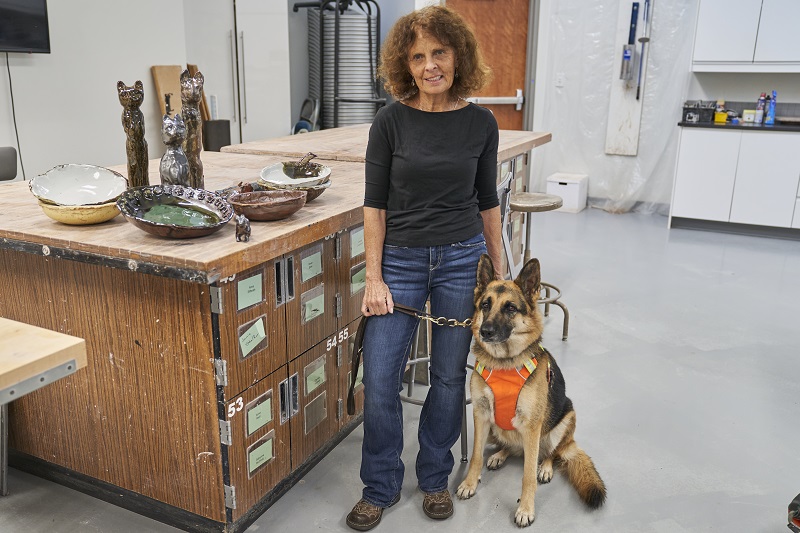 AC: You and Bebe have a really long history together! Were there any other teachers or students who inspired you over the years?
L: I've been in Megan's classes a lot, and recently I've been taking classes with Bradley, which I've really enjoyed. He's really good at verbalizing things to me so that I can learn quickly, which is so important now that my vision has gone. And the people who work here like Steve, they are just so helpful.
AC: Have the Arvada Center teachers taught you anything specific that really elevated your art?
L: I sell work outside of the Center, and the work that I make here is the work that sells. It's really just at a noticeable, higher caliber. They help me in so many ways. When I glaze pieces, I can ask questions and make sure I got it all, as sometimes I miss a spot. They always have someone that can check it for me.
AC: Can you share with us a little about your art background?
L: I have a B.A. in Fine Art and my focus was painting and drawing. Actually, ceramics was my worst class! But I did some sculptural stuff at CSU on an independent study level after I graduated, and I kind of played with clay there. Then once I came here, I haven't stopped.
AC: If ceramics was your worst class initially, what changed?
L: When I was looking to take a class here, I decided to go with clay because it was available, and I immediately had a blast with it. I was using it more like fabric, because I wasn't using the wheel. I was hand-building, so I was using it more like fabric wrapping. I've always admired Bebe's work (her work to me is exquisite!), and when she was doing architectural stuff I said to her "I can't do that." She said "Don't worry about it.
Work the way you work. You work well organically, that's who you are, so go for it." And that is THE best thing anyone has ever said to me, it just freed me up to try the things I am natural at.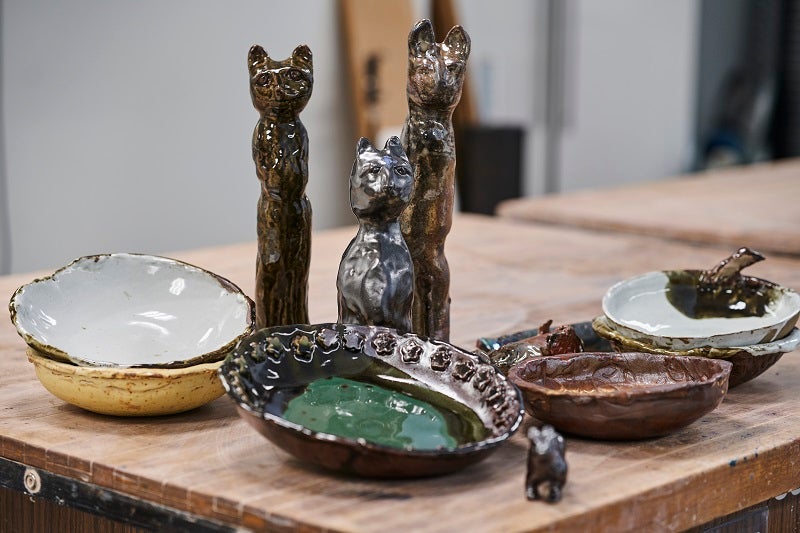 AC: When you start a piece, do you have an idea of what you want to do?
L: Typically I do. I get ideas, I have dreams, I have dreamed about a lot of artwork. When you are in that waking state between wake and sleep. That's when I get a lot of ideas. I can't sketch my work anymore, so I just put it in my dictated notes recorder. I say all the details and describe the vision, and in terms of color I can get myself into a really meditative state. That's never been an issue for me. I would come up with color schemes here and other students would say "I want to do what she's doing!" It's kind of funny because I can't see the color, but I knew what I wanted based on what I would see in my mind.
AC: How has your art progressed and changed over the years?
L: I've worked here as well as at other studios. There was a time I was doing figurative work, some of it was really organic, I did a lot of raku, then I was doing some really beautiful faces and hands, and figures that were quite large, I did that down in Denver. They were more realistic, and I don't know that my work is like that anymore. I am going to try to do that again, but I don't really know what the outcome is since I can't see it. In that sense it has changed, I will talk to Bebe and say "I don't know if I can do that." But I'm doing these more abstract ideas where I draw into the clay. And she is so encouraging and says she really likes it, so that encourages me to keep going. Whatever comes naturally!
My work is a little different than when I started because back then I could see somewhat - not perfectly, but somewhat- and now I can't see anything. So it is a different experience. But yet there is still the internal inspiration.
AC: How has being a natural born artist impacted the rest of your life?
L: I've always done art, I definitely feel like I was born an artist. It's who I am, it's what my brain is like. But I also do a lot of athletics. So I have these two sides, and it requires different use of my brain. But even with athletics you get into an open state, and that's when I really excel.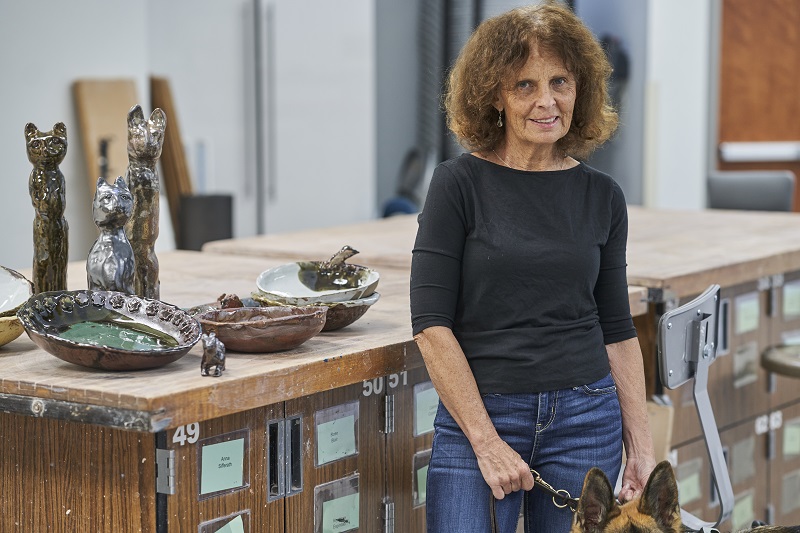 AC: What kind of athletics are you into?
L: I used to ski, I ski-raced. Then I got into running, I started running when I was 14. I was also a swimmer, I've never been that good as a swimmer, but I'm glad I did because now I know how to swim!
AC: Anything that can get you into that flow state! Do you have any advice to give to art students about finding their talent?
L: One of the things about being here at the Arvada Center is that there is a plethora of resources and things to try. If somebody has tried something and it turned out really great, you get to learn what they have done. I love how we share different things. Be open, learn from whoever - you can learn something from everybody. There is always something to learn from everybody, regardless of the teacher that you take.
AC: Is there anything else you would like to add?
L: I just want to reiterate how great the Arvada Center has been to me. They are really open and supportive, they have never been condescending in any way. They've always known what I'm capable of, and they treat me like everyone else. And that's been a godsend, it really has.