LESSONS FROM A SUMMER OF OUTDOOR THEATRE IN THE TIME OF COVID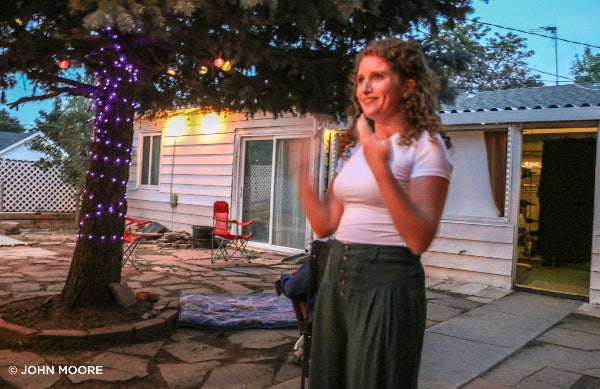 Steph Holmbo welcomes audiences to "and again," her play about the Greek nymph Echo and what it means to listen. And be heard. Through October 3. Photo by John Moore.
Those companies that got out of the box deepened relationships with grateful audiences. Those that grow stagnant do so to their own peril.
By John Moore, Senior Arts Journalist
It was a summer of theatre that no one saw coming – and no one ever wants to see come again. But the past few months of adventurous outdoor theatre born of desperation and innovation have confirmed a few theatrical truths to be self-evident:
You can tell a story anywhere.
It doesn't have to be on an indoor stage.
You don't have to spend a lot of money to do it.
And most emphatically, the summer of 2020 made plain what alternative tastemakers have been saying for five years: The future of the American theatre is in immersive, environmental storytelling. Long before COVID made indoor theatre presently impractical, live storytelling has been moving outside more and more. This summer, the theatre rebels among us have been pretty much the only show in town.
The ongoing pandemic has wrought near-total economic and artistic devastation on the local theatre community. Faced with the reality of physical distancing requirements, many companies have chosen to simply go dormant until it makes fiscal sense to present traditional indoor theatre again – and not bleed money doing it. Others have explored new storytelling forms such as Zoom readings, simulcast performances, radio plays, community conversations and drive-in concerts.
But then there are those few adventurers who have dared to present fully staged outdoor productions. And in doing so, they have delivered some of the most memorable, intimate theatre experiences their audiences will ever experience. And they only happened because those theatremakers got out of the box – and they took their small but willing audiences with them for a summer of back-to-basics campfire-style storytelling.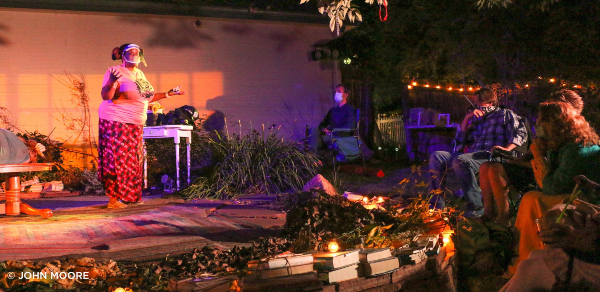 'Director Lisa Young addresses the audience for 'Reach.' Photo by John Moore
Buntport Theater was the first local company to jump when it rolled out a 30-minute play called "The Grasshoppers," a short, funny twist on a nature documentary. The four actors spread out on the lawn in front of the theatre and played out their scene for the occupants of eight parked cars. The run sold out in only a few hours (and the one after that, and the one after that), confirming that culturally starved audiences were willing to go wherever you want to take them to get their fix – masks and all.
The Misfits performed a broken romance called "Reach" in actor Emily Tuckman's North Boulder backyard with audiences of about 10 spread throughout in lawn chairs. The play was accompanied by an evocative portable lighting design that made it feel like we were watching a 3D drive-in movie.
(Story continues below the photo.)
Tresha Farris and Sean Michael Cummings played a couple meeting on a golf course outside a wedding reception in 'The Rough.' Photo by John Moore.
The Catamounts, the local company perhaps best prepared to pivot to the new COVID realities because of its long history of performing in outdoor locations, presented "The Rough," which took audiences on a wild ride through the origin story of golf (and beyond) by having them drive carts at dusk to storytelling locations spread throughout the front nine of a Westminster golf course. One audience member later wrote in: "After all the crap of this year, the entire experience of the production was like hitting the re-set button on my mental and emotional health level. I'm smiling and hopeful again."
"and again," a poetic new play by Steph Holmbo, is taking place through October 3 on and around the patio of an East Denver residence. Holmbo presides over a welcoming, contemporary interpretation of the lesser-known myth of Echo. (She was a chatty mountain nymph who drew the attraction of Zeus and was therefore cursed to silence by his wife.) The setting invites the audience's investment in a way no traditional indoor theatre studio space ever could. There's just something different watching a woman pour wine into your glass and her guts into your lap while you and nine other "new friends waiting to happen" are taking it all in like neighbors sitting around a tree with lights strung down its trunk. Suddenly a backyard window is powerfully transformed into an old-school storytelling scrim. It feels a bit like the natural progression from when we were kids telling stories after school in the backyard.
Not every live offering was so limited by crowd size. The Littleton Town Hall Arts Center had big plans to present a late-winter indoor production of the John Denver biography "Almost Heaven" on an indoor set accompanied by a provocative, original video underscore. When the shutdown ended those grand plans, Town Hall moved the production outdoors to the picturesque environs of nearby Hudson Gardens, which can accommodate about 70 on its expansive grounds.
By the time the run ends on October 11, Town Hall will have managed to sate about 1,500 of its audiences' theatre fixes. Yes, that only represents about half the crowd size for a single performance of any big Broadway musical downtown. But then again, there aren't all that many theatergoers who have so far shown much willingness to venture out to any production right now (inside or out). But those who have are being richly rewarded. At such a lousy time, you have to appreciate the opportunity to take in an early fall sunset in a garden while birds fly overhead and you're listening to lyrics like: "I guess he'd rather be in Colorado; he'd rather spend his time out where the sky looks like a pearl after a rain."
(Story continues below the photo.)
'Town Hall Arts Center's Almost Heaven' at Hudson Gardens, through October 11. RDG Photography.
In every case, the thing that made those efforts special is the very thing that only came about through active problem-solving. Each of those environments enhanced the storytelling experience, and our understanding of the language or the lyrics. I would not have wanted to watch any of them indoors.
Granted, these few outdoor summer theatre adventures don't begin to make up for the more than 500 planned Colorado productions that have now been canceled or postponed by the shutdown. They didn't begin to make up for robust summer seasons from the Colorado Shakespeare Festival to the Creede Repertory Theatre. The pandemic has left nearly every company historically cash poor. It has robbed artists of income and creative opportunities.
But the greatest loss of all from this shutdown has been theatre itself. Gone with it are the epiphanies. The crescendos. The social justice. The roar of the crowds. The inspiration and the hope. The moments in art that can change a person's life. "We need our artists' voices now more than ever to help us face these unparalleled challenges and to help us heal," Margaret Hunt, Director of Colorado Creative Industries, told me for a report on the sad state of the Colorado arts.
"This summer reminded me that theatre is this actual, needed thing," added Amanda Berg Wilson, founder of The Catamounts. "We can survive without it, yes, I suppose. But at what cost? There's something weirdly glorious about a live person telling a story – however and wherever. I don't think there's anything that can replace it. That's good news for us all."
But now with the calendar changing to October, a cruel new reality sets in: As the weather turns colder, most theatre companies are preparing for a period of hibernation from which some may never emerge.(Meanwhile, a handful of companies are forging ahead with fully staged indoor theatre productions with strict physical distancing in place, including Candlelight Dinner Playhouse, the Aurora Fox and Adams Mystery Playhouse.) Others will carry on virtually, such as Emancipation Theatre Company's release today (October 2) of Jeff Campbell's "I Am Raverro," the multimedia story of a Black man who suffered permanent brain damage in an assault by security officers at Denver's Union Station.
'I don't think there's anything that can replace live storytelling. That's good news for us all.' – Amanda Berg Wilson
So what are the takeaways from this slim and strange and occasionally wonderful hybrid summer of outdoor theatre?
This was, foremost, the summer not to go broke. But it was not the summer to fully turtle. Those companies that stretched their resources and created storytelling opportunities for their audiences provided them with an invaluable service. By finding a way to maintain connection, they told their loyal patrons they get it: The essential role of the arts in our collective economic, psychological and cultural recovery is to play on. And in doing so, they solidified bonds with their audiences that will be steeled for years. Yes, there are union concerns for some and budgetary concerns for all, but those companies that grow stagnant in this long interim do so to their own peril.
For those theatremakers pondering a way forward, the message from this summer is to welcome a healthy balance between the conventional and the unexpected. To embrace flexibility and the unproven and the unlikely. Perhaps the one good thing to come out of all this is in the opportunity it offers theatre companies to change their way of thinking.
The future of theatre may be part outdoors and it may be part indoors, but it will continue to be less and less on a proscenium stage. The future of live storytelling is in bathtubs and hospitals, in museums, slaughterhouses and, yes, on golf courses. It's in the intersection of theatre with dance, music, games, puzzles, theatre, live-action role playing, art installations, cosplay, virtual reality, food and other entertainment disciplines. The pandemic, oddly, may be helping us to get on with that.
The world needs the imagination and inventiveness of artists now more than ever. When you come back, bring us theatre as we have never known it. Your fans, at present, are starving. Feed them something. They will follow your fresh breadcrumbs wherever you lay them.
John Moore was named one of the 12 most influential theater critics in the U.S. by American Theatre Magazine during his time at The Denver Post. He also is the founder of The Denver Actors Fund, and is now contributing reports on the arts community for the Arvada Center. Reach him at culturewestjohn@gmail.com.
Director Courtney Esser addresses the crowd at Lighting Designer Stuart Barr's home for Steph Holmbo's 'and after,' through October 3. Photo by John Moore.