- Guest column by artist Heather Doyle-Maier
Back in 2017, I had a vision. That vision was for a new and innovative piece of book art, one of the most significant I had ever done. It was inspired by a teacher, and it came to me in three words: Magic, Stage and Studio.
That teacher was Christina Noel, director of dance at the Arvada Center, and at the time she would be celebrating thirty years of teaching dance and of coordinating the Arvada Center's vibrant dance program. Over the many years my own daughter learned dance at the Center, I had come to know and be inspired by Christina – her rich family history of dance performance and pedagogy, her unwavering commitment to nurturing both skilled dancers and decent human beings, her deep knowledge of theatre and most especially, of the magic that can happen on a stage after years of hard work in the studio. Magic – stage –studio. These were Christina's guiding lights, and they inspired mine. And so I took a big breath, dug deep, and built her a book.
Just as Christina is not an average dance teacher, the book is no typical "book." It doesn't even look like a book! Instead, it is a full-blown, 3-dimensional tribute to Christina and her vision. Standing about 2.5 feet tall, the book is a miniature fairy-tale castle, complete with ivy climbing up the sides of the tower, a roof that lights up with stars, and two abutting wings. Inside the tower is a theatre stage with a proscenium arch, movable scrim and functioning footlights. Inside the building's wings are miniature dance studios complete with ballet barres and mirrors. And the walls of the tower and studios all fold down to display the "book" part of the structure – the words written in appreciation of Christina's long and impactful career of making a difference through dance.
The tributes are written by current and former students, by families and by Arvada Center volunteers and staff, and there are more than 60 panels of them in the book - tucked behind the mirrors in the studio, into the tiers of the theatre, under the backstage posters.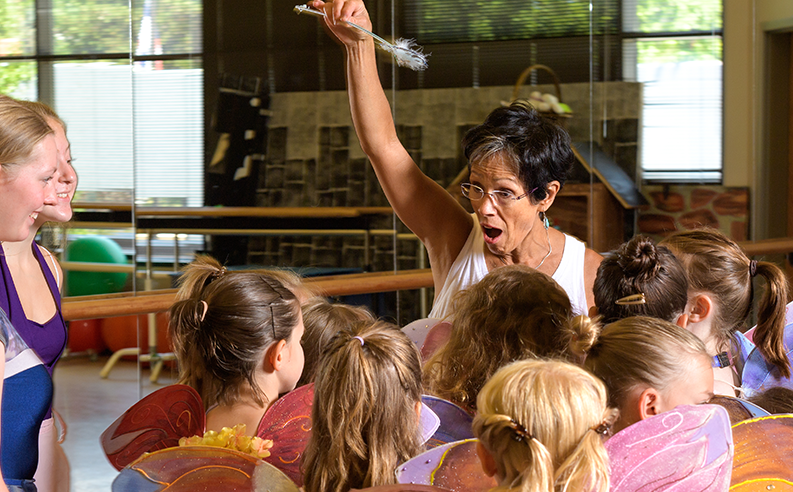 The book took me three-plus years and more than 600 hours to construct. It was an opportunity to use every skill I have as a bookmaker (cutting, pasting, sewing and much more) and learn a lot of new ones (like sewing tiny electric circuits!). It was a chance to design and engineer remarkable structures (like the confluence where the folding tower walls meet the multi-layer stage with trap doors). And it was a test of my own commitment, to not only stay true to a long creative arc but to create something that would stun and amaze, suggest and evoke, honor and cherish. To create true theatre magic.
And given the stars in Christina's eyes when she saw it, I'd say it worked.