STRAIGHT TALK WITH PARKER ARTS, STORIES ON STAGE AND THUNDER RIVER
Ethan Walker, performing at the 2019 Henry Awards, played Jack Kelly in Inspire Creative's 'Newsies' at the PACE Center in Parker. Photo by John Moore.

Welcome back to "Straight Talk," our ongoing series with artistic leaders from the Colorado theatre community about the unique challenges they face during this unprecedented time.
By John Moore, Senior Arts Journalist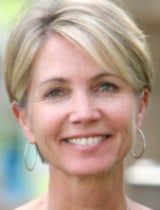 "Parker Arts" is an entity that encompasses the facilities and events overseen by the Town of Parker's Cultural Department. Parker Arts oversees several performance spaces – primarily the PACE Center's 542-seat jewel theatre just east of downtown (complete with a small outdoor amphitheater), and the newly refurbished boutique Schoolhouse Theater on the heart of the infuriatingly spelled Mainstreet that houses a 200-seat theatre, art gallery and heritage center.
Being city-owned can be both a blessing and a burden for cultural organizations. Parker Arts received an essential $1.2 million from the town of Parker this year (about one-fourth of its overall budget), but that already was down by $200,000 from 2019, even before COVID19 shut everything down. With sales tax revenues plummeting in 2020, Parker Arts can't count on any emergency cash infusions from the city to help them through the current crisis.
"We are so grateful for support from the town, said Cultural Director Elaine Mariner, who yesterday announced her retirement effective July 6. "We're fortunate because a lot of non-profit companies come and go if you don't have the support of your municipality. Our support from the city is going to keep the arts alive in Parker, even if that funding is reduced."
The major casualty to summer programming so far has been Give 5 Productions' planned homegrown staging of "Mamma Mia," directed by Piper Arpan, as well as three concerts. No decision has yet been made about a scheduled fall staging of "Clue, the Musical" scheduled for the Schoolhouse Theatre.
A new summer socially distanced drive-in series will begin at 8:30 p.m. this Friday (June 12) with live entertainment in the PACE parking lot, beginning with a concert from a high-energy Dixieland jazz band called The Rootin' Tootins. The cost id $30 per vehicle, with the sound piped to your car's radio. Tickets here
While all 50 part-time jobs at Parker Arts have been temporarily eliminated, Mariner has been able to retain all 18 members of her full-time staff so far. The immediate financial difficulty Parker Arts faces is that earned revenue is down 60 percent for the year, and contributed revenue is projected to be down 25 percent. That translates into a $2 million revenue decline.
''We received nothing but compliments from parents who were relieved to have activities for their kids.' – Elaine Mariner

Although all venues remain closed indefinitely for public performances, some buildings re-opened last week for youth summer camps that have a maximum enrollment of nine students each. "We received nothing but compliments and sincere thanks from parents and grandparents who were relieved to have activities for their kids, and grateful for the safety measures and sanitary precautions we set into place," Mariner said. "Camper registrations are increasing daily, and we hope to add more sessions throughout the summer."
Limited event rentals have resumed as well, including a small wedding last weekend that took place in the Ruth Chapel.
As for indoor programming, if social distancing requirements allow for only 25 percent of normal audience capacity, "that is going to seriously impact what we can present through the end of the year," Mariner said.
But whatever it takes, she added, Parker Arts, and its programming, will go on.
"Our primary goal is to maintain our connection to our community, no matter how long this lasts," she said. "We are not shutting down, and we are not cancelling the arts in Parker."
---
'It feels so good being able to hire actors for something, even if we can only pay chump-change right now.' – Anthony Powell

Stories on Stage is an old-fashioned live storytelling company of professional actors who read stories from the stage that audiences listen to and fill in with their own imaginations. "We bring stories to life as a shared human experience," said Artistic Director Anthony Powell. "We're sometimes funny, sometimes moving, always thought-provoking."
Stories on Stage had completed most of its 19th season when the shutdown hit, but it already has broadcast several readings virtually since. "We're basically groping around in the dark and bumping into walls just like everybody else in Denver's theatrical community," Powell said. "But we feel extremely lucky that our very simple format lends itself pretty well to doing little micro-shows on Zoom. That's turning out to be a great stop-gap measure for us, and our wonderful audience has been very forgiving of our various technical snafus – like when freaking Alexa started to talk right in the middle of things."
Powell says the whole thing has given him "Quarantine Brain." If that is not a real thing, he asks – can we simply make it one?
"As a card-carrying Luddite, I've always been suspicious of – if not downright hostile to – this kind of thing, but the Zoom experience is proving to be a huge gift to us right now. But I assume the novelty of Zoom will soon wear off and our audiences will be yearning for a more professional-quality product."
Financially, "it's a bit of a nail-biter for us right now," said Powell, whose company has benefited from small loans from the Paycheck Protection Program and elsewhere.
"Our small size makes it a little easier to weather the immediate storm, as we've only got two full-time employees on staff," he said. "Our loans have been a godsend. It has given us time to breathe and figure out what our next moves will be."
It is Powell's dream to be back in a real theatre for Stories on Stage's popular annual holiday offering, "Making Merry," but that might be overly optimistic, he said. "Still – a boy can dream, can't he?"
Last week's micro-shows featured stories about sheltering at home submitted by Stories on Stage audience members (including acclaimed local author Nick Arvin) and performed by popular Arvada Center actors Kate Gleason and Sam Gregory. Read the stories here
"It feels so good being able to hire actors for something, even if we can only pay chump-change right now," Powell said. "Once we get a handle on how much to charge for virtual season subscriptions and such, we will be able to do a lot better by our actors – and I am so looking forward to that day."
Video bonus: 'Zooming with Stories on Stage: Wild Kingdom'
Featuring Erin Rollman of Buntport Theater and John Jurcheck of Curious Theatre Company at the Dairty Arts Center in Boulder.

---
'Everything is on the table.' – Corey Simpson

In 1995, Lon Winston founded Thunder River Theatre Company 170 miles west of Denver in the Roaring Fork Valley. His gypsies roamed from Aspen to Glenwood Springs over the first 11 years, presenting everything from classics to edgy contemporary plays. In 2005, the company made its permanent home in the heart of downtown Carbondale. Since 2017, the thunder from Thunder River has made this little company the darling of the Colorado Theatre Guild's annual Henry Awards, last week garnering 10 nominations for the abbreviated 2019-20 season.
This Friday and Saturday (June 12-13), Thunder River will air live performances of "The Pink Unicorn" starring Missy Moore, who won the 2019 Henry Award for her performance. Directed by And Toto Too Theatre Company's Susan Lyles, this one-woman play by Elise Forier Edie introduces a Christian widow living in a conservative Texas town who has her life thrown into turmoil when her teenage daughter announces she is genderqueer.
This final production of Thunder River's 25th season will be aired on ThunderStream, the new streaming channel the company launched the week after COVID19 started spreading across the country. Anyone can watch live at app.arts-people.com.
"While we agree with many others that theatre produced and experienced online is entirely different from sitting in a facility packed with our fellow theatre enthusiasts – if live sports can translate successfully to camera, then so can theatre," said Thunder River Artistic Director Corey Simpson (pictured above and right).
Simpson feels fortunate that Winston had the foresight to pay off his new theatre from the start, or otherwise the shutdown would have likely spelled the end of Thunder River.
"Like all theatre companies, we have been hit hard financially," said Simpson. "It's fair to say we have had to cut our revenue expectations by a third for the year."
The company canceled its planned season finale of "Into the Breeches," as well as two fundraisers; all outside building rentals; and all cabaret and improv performances. As a result, Simpson has been forced to eliminate one of the company's four full-time positions. "And let me tell you, for our level of programming, letting go one-quarter of our staff is devastating," he said.
But the saving grace: No mortgage to pay. The aching reality: No indoor performances for the foreseeable future.
"We believe in the importance of continuing to safely support the work of as many artists as possible," said Simpson, "and we believe in the vital way that theatre can lift up our global community with stories of hope and shared humanity during these times of crisis.
"Theatre-makers are an adaptable, ingenious bunch, and we are actively considering safe, transformative alternatives to the traditional theatre-in-a-box model. Maybe that's smaller-cast outdoor theatre, or location-specific devised work where the technical aspect is less of a focus." That also could include drive-in – or even bike-through! – theatre in multiple locations, he added, or long-distance improv comedy.
"Everything is on the table," said Simpson.
And the bottom line is good news: "Thunder River Theatre Company is here to stay."
Contact John Moore at culturewestjohn@gmail.com
Thunder River's Henry Award-winning 2017 production of 'The Tempest' in Carbondale.
MORE STRAIGHT TALK
• Straight Talk with Platte Valley Players and Theatreworks READ IT HERE
• Straight Talk with OpenStage, Firehouse and Adams Mystery Playhouse. READ IT HERE
• Straight Talk with Curious Theatre Company. READ IT HERE
• Straight Talk with The Catamounts, Bas Bleu Theatre and Thingamajig Theatre Company. READ IT HERE
• Straight Talk with Lake Dillon Theatre Company, Boulder Ensemble Theatre Company and Northglenn Arts. READ IT HERE
• Straight Talk with the Fine Arts Center, Miners Alley Playhouse, Dangerous Theatre and Lone Tree Arts Center READ IT HERE
• Straight Talk with square product, Forge Light, Springs Ensemble Theatre and Coal Creek Theatre of Louisville READ IT HERE
• Straight Talk with the Denver Center, Jesters Dinner Theatre, Glenwood Vaudeville Revue and Germinal Stage-Denver READ IT HERE
• Straight Talk with Local Theater Company, Theatre 29, The Source and Equinox READ IT HERE
• Straight Talk with Su Teatro, Vintage, Breckenridge Backstage and Counterweight Theatre Lab READ IT HERE
• Straight Talk with Aurora Fox, BDT Stage, Cherry Creek Theatre and Misfits Theater READ IT HERE
• Straight Talk with Creede Rep, Town Hall, Candlelight and Theatre Company of Lafayette READ IT HERE
• Straight Talk with Phamaly, Buntport, the Colorado Shakespeare Festival and Rocky Mountain Repertory Theatre. READ IT HERE
• Straight Talk with Rod Lansberry, Arvada Center Artistic Director of Plays. READ IT HERE
• Straight Talk with Lynne Collins, Arvada Center Artistic Director of Plays. READ IT HERE
• Straight Talk with Philip C. Sneed, Arvada Center President and CEO. READ IT HERE
• Survey: Most theatregoers aren't coming back anytime soon. READ IT HERE
• COVID-19's toll on Colorado theatre: 224 productions and counting. READ IT HERE