PIVOTING WITH ... TARA FALK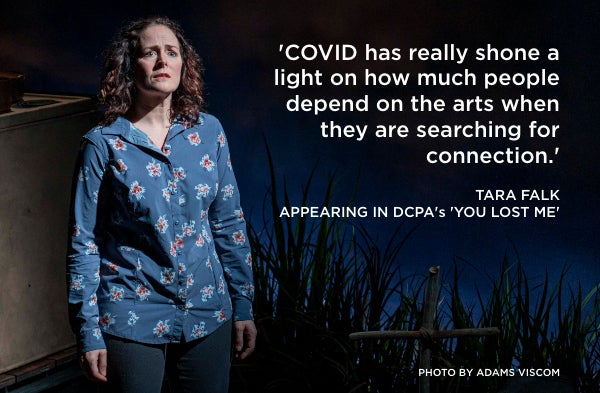 Actor Tara Falk was flying high when her entire family got COVID. Now she's writing a graphic novel and mentoring the incarcerated.

"Pivoting With ..." is an ongoing series talking with members of the Colorado theatre community about how they are adapting to changes in their creative and personal lives as the COVID pandemic continues. Today: Actor and educator turned graphic novelist Tara Falk.
At a glance: For Denver actor Tara Falk, 2019 was all about beating cancer. This year, it's been an epic battle with COVID. Falk is a Broadway actor ("Metamorphoses") who most recently has appeared in the DCPA Theatre Company's "Sweat" and "You Lost Me." She is married to DCPA Education Head of Acting Timothy McCracken.

Describe your life B.C. (Before COVID): It's funny. When we moved here 10 years ago from New York, I was the one who put my acting career on the back burner, caring for our son and working an insurance job on the side. Over the past several years, I have dug my teeth back in again through teaching, working with at-risk teens and starting to audition again. I had just finished "You Lost Me" at the Denver Center, wrapped up "Reclaiming One Star" at the Colorado New Play Summit and was about to begin rehearsals for "Roe" at Curious Theater, as well as teaching again. I was back "in," and so happy about it. I was enjoying it more than ever before.
What have you lost, personally or professionally, since COVID? Like almost every other artist I know, I lost several jobs, and the potential to book more work. Gone overnight. That yearning for community really gnaws at you. Ensemble. Working together. COVID has really shone a light on how much people depend on the arts and lean on them when they are searching for connection. The arts run through every fabric of society. Strictly from an economic standpoint, the arts contribute nearly as much as the entire airline industry, and yet they got a comparatively tiny slice of the stimulus. It's frustrating and worrisome.
How are you pivoting? We've mostly been able to live as artists for more 25 years, so we are pivoting all the time. One week closing a Broadway show, the next week back to coat-checking, nannying and auditioning. Having a child who is remote-learning has placed me back in the home, like so many others. I've tried to look at this time as a space to grow and pay attention to aspects of my life that get buried when the hustle is on. I have been writing a book over the past two years and now I can really sit with it. It's prose mixed with young-adult graphic novel, and it torments and uplifts me on the daily. "Just keep writing," they say. So, I am. I've joined a writers group of phenomenal women, something I would never have done before. I have also joined the DU Prison Arts Initiative as a "responder" for a non-fiction writing course. It's truly incredible. I have 23 students who are incarcerated at two different facilities. The work they send me, without having ever met me, is so brave and inspiring. I'm learning so much about my own writing through them. Art: It's vital. Connection is vital.
On top of that, your family had its own run-in with the virus early on. Yes, my husband had a severe run-in with COVID in March. Then my son and I got it, too. Our cases were more mild. Watching your husband shrink in size, look half-dead and gasp for breath in his sleep is terrifying. It was a long six weeks living in a zombieland, all the while ready at a moment's notice to rush back to the E.R. This virus is insidious, and the level of anger and frustration I feel with those not taking it seriously is overwhelming. I take deep breaths and look for the good, but it's very difficult. I know people who have died or been in the ICU and believe me, this virus does not care whether you have preexisting conditions or not. My healthy 51-year-old husband now has ongoing lung and heart issues.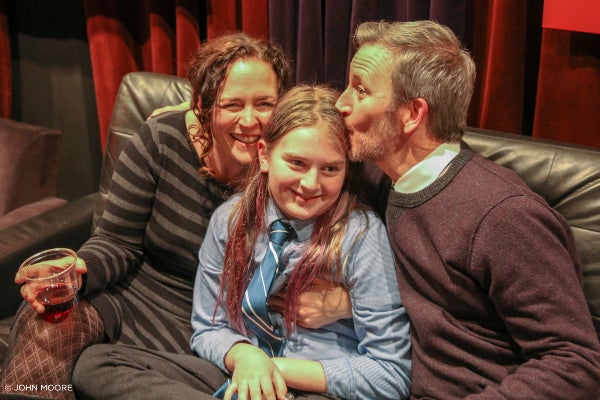 Tara Falk with her husband, Tim McCracken, and their son on Opening Night of 'You Lost Me' in January 2020. Photo by John Moore.
What have you learned from all of this? Nothing is guaranteed, that's for sure. Artists are so used to having to "switch it up" and come up with creative solutions. But when your industry has completely shut down, that's terrifying. I'm usually someone who goes out, does my thing and then comes home and hunkers down. I've learned that I need people. I adore people. I need the connection of ensemble, and I absolutely love to work, to dig in and be challenged. Both my husband and I are people who will give you 500 percent when you've only asked for 75 percent. That takes its toll. As an artist, you are so used to the hustle. Here you are interpreting life, unfolding it for others, and so often you're so busy running around with your head down. So we have drawn some pretty solid boundaries around our family life now. We are actually really hanging out with one another. We've just never had that time before. COVID showed me that I have a phenomenal team under my roof, and I am so damn lucky. Breathe and practice gratitude every chance you get.
What are your words of encouragement for others who are now pivoting their way through 2020? I always tell my students on their first day of class: "There is no right or wrong here. Get comfortable with falling on your face, wiping that egg off, getting up and trying something new. Go easy on yourself. Being here is brave to begin with." Falling hard is sometimes the only way to find your character or figure out a scene. We, as artists, are so used to getting our butts kicked, and yet, we persevere. Art has been here since the beginning of time, and it isn't going anywhere. A great deal of work and healing lies ahead, but we know how to do that. Watching how all my fellow artists around the world are tackling this time is beyond inspiring. It fills me with hope. Reach out, create, rest, connect and know there's a giant tribe moving through this time with you, even when you just want to sleep and eat pizza all day. Think about how many of us feel the same way you do and breathe out love to everyone, including yourself.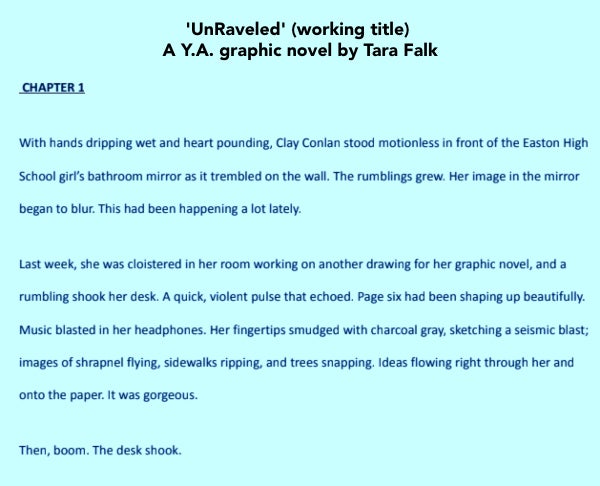 More about Tara Falk
Tara Falk, a native of Gloucester, Massachusetts, has appeared on Broadway in "Metamorphoses," "The Constant Wife" and "Enchanted April"; and Off-Broadway in "This Is Our Youth" and "There's the Story." In Denver, she has appeared in the DCPA Theatre Company's "Sweat" and "You Lost Me"; Curious Theatre Company's "Hand to God" and "Time Stands Still"; as well as Senior Housing Options' "On Golden Pond" at the Barth Hotel. She most recently appeared in a staged reading of "Reclaiming One Star" at the DCPA's Colorado New Play Summit. She has been seen on TV in "The Black Donnellys," "Guiding Light" and "As the World Turns." Falk is a Teaching Artist for DCPA Education and spent a year teaching playwriting to teenage girls with "Girls' Write" for Girls Athletic Leadership School through The Athena Project. She received her BFA from Boston University College of Fine Arts and studied at the British American Dramatic Academy.


Compiled by Senior Arts Journalist John Moore. Are you pivoting? Email John at culturewestjohn@gmail.com.