DCPA PUBLICLY ANNOUNCES $4 MILLION RECOVERY FUND
A series of concerts from New York will offer relief to nearly two dozen arts organizations across the country including the Denver Center. From left: Patti Lupone, Laura Benanti and Vanessa Williams.
'The loss continues to be devastating' for the region's leading performing-arts center
By John Moore, Senior Arts Journalist
In response to staggering losses since the COVID shutdown, the Denver Center for the Performing Arts has publicly announced its $4 million Recovery Fund.
This year, as a result of COVID-19, the DCPA has canceled 32 shows, furloughed 130 employees and lost tens of millions of dollars in potential revenue. "The loss continues to be devastating, and it's only through your help that we will be able to resume programming," the DCPA said in an email yesterday.
The Recovery Fund has three intentions: To aid in the Denver Center's return to the stage; to cover health-insurance premiums for furloughed employees through December; and for the continued transition of the DCPA's education programs online.
The Recovery Fund had a "soft launch" in March. But at the time, "We knew that everyone in our community was hurting, and that it wasn't the appropriate time to launch a major fundraising appeal," said President and CEO Janice Sinden. "But many people opted to donate the value of their tickets while others made outright gifts. With that early and much-appreciated support, we are now $1.7 million toward our $4 million goal. People's generosity is really overwhelming."
As for a return to presenting live theatre again, Sinden added: "We are optimistic that our Broadway programming will resume in 2021, and are planning for a robust 2021-22 Theatre Company season." To give to the Recovery Fund, go to denvercenter.org or call 303-446-4840.
Vintage opening for live theatre amid COVID spike
Just as the Vintage Theatre readies to become only the third metro company to return to presenting full runs of indoor theatre productions on Friday (October 9), the neighboring Aurora Fox has confirmed that one of its backstage crew members is quarantining following a positive COVID test.
Vintage will present "Murderers," directed by Bernie Cardell and Rhyann Sims, running through November 8. "Murderers" is a trio of inter-connected comic whodunnit monologues by Jeffrey Hatcher. The story requires no interaction among the three actors, and Vintage has announced all of the now expected safety measures.
Last month the Aurora Fox, located two blocks east of Vintage, became the first major metro theatre company to open with a full indoor run. Its musical revue "Tomfoolery" closes Sunday despite the new positive COVID test.
"Everyone who appears on stage or interacts with the public at the Aurora Fox is tested for the coronavirus weekly – whether or not they have symptoms associated with the virus," said Marketing Specialist Steven J. Burge. "Anyone who interacts with audiences, or appears onstage or backstage this weekend for the closing weekend of 'Tomfoolery' will have tested negative for COVID this week."
Vintage, however, is taking several safety precautions beyond what the Fox has been enforcing over the past month. "We will be taking your temperature before you enter, and anyone with a temperature over 100.4 will not be allowed in the building," said Vintage Theatre Executive Director Craig Bond, who also has installed new HEPA filters in the theatre's HVAC system. And a cleaning company will come in after every performance to disinfect the theatre, lobby, bar area and restrooms.
"With the precautions that we have taken, I really feel like it's safe," said Bond, who is limiting capacity to 35 in his 150-seat mainstage theatre and reports a competely sold-out opening weekend. "I feel good about it because our people feel good about it. They want this." Information: 303-839-1361 or vintagetheatre.com.
DCPA partnering up for Broadway concerts
The Denver Center is moving forward with virtual fall programming in large part through partnerships. For example, the DCPA is one of 20 major nonprofit arts organizations offering access to a three-part virtual concert series called "Live from the West Side: Women of Broadway," featuring two-time Tony Award winner Patti LuPone on October 24, Tony Award winner Laura Benanti on November 14, and actor/recording star Vanessa Williams on December 5.
Each concert will be presented in high-definition from The Shubert Virtual Studios on Manhattan's West Side. Each will feature a mix of Broadway showtunes, pop songs and personal stories from each headliner. At-home audience members will be invited to email questions, some of which will be answered in real time during the livestream.
"We are delighted to offer this exclusive opportunity to our patrons and community at large," said DCPA Broadway Executive Director John Ekeberg. "At this time, more than ever, theatre continues to have the ability to lift our spirits and enrich our lives. We sincerely look forward to making this opportunity available so that we can reconnect with our loyal fans in a safe, responsible and entertaining way."
A $75 subscription includes access to all three livestream events. Single tickets are $30 for each event. All tickets include on-demand access for 72 hours after each live event. Interested viewers are encouraged to purchase tickets through their local partner nonprofit organization, in this case, the Denver Center. All proceeds generated through denvercenter.org stay with the Denver Center. No phone sales.
A chance to see 'Until the Flood' after all
The DCPA Theatre Company was set to stage "Until the Flood" last March, starring writer Dael Orlandersmith. The ever-timely piece explores a community in turmoil following the fatal 2014 shooting of unarmed black teenager Michael Brown by a white police officer in Ferguson, Mo. COVID, of course, got in the way.
Now Los Angeles' Center Theatre Group has announced a partnership with the DCPA and seven other national companies to stream a previous Orlandersmith performance of the play, starting November 15. Access will be free, with a suggested donation through a link coming soon to the Denver Center's web site.
"Until the Flood" draws on her Orlandersmith's interviews with residents across the greater St. Louis area to create composite characters who discuss the roots of unrest and the search for healing, giving each a chance to take center stage and holding no one viewpoint above others.
An Equity first in Colorado Springs
Colorado Springs' TheatreWorks has become the first Actors Equity (meaning union) theatre in the Central or Western region of the U.S. to receive permission to work in-person, even if that permission only involved one day of socially distanced videotaping.
TheatreWorks has created a virtual production of Anna Deavere Smith's 2000 documentary-theatre piece "House Arrest: A Search for Character in and Around the White House, Past and Present." Based on historical source materials and interviews with figures ranging from Studs Terkel to Anita Hill, "House Arrest" asks how the American presidency has changed from 1776 to more recent years.
To create the piece, eight directors worked with a 16-actor cast entirely on Zoom before gathering for the one-time filming at the Ent Center for the Arts. The individual pieces were then edited into a single, streamable theatre event that includes 40 characters ranging from Thomas Jefferson to Bill Clinton.
TheatreWorks is also offering a companion piece of original monologues drawn from interviews that University of Colorado Colorado Springs students conducted with election officials and insiders from around the Pikes Peak region.
"The national dialogue about leadership is one of the most important conversations to have this fall," Artistic Director Caitlin Lowans said. " 'House Arrest' offers a rich jumping-off point for investigating what each of us seeks in our leaders — and how they rise or fall under the close gaze of the public eye."
"House Arrest" can be streamed for free from October 22 through November 1 with a suggested donation of $10-$20 at uccs.edu
A book club for theatre-lovers
Visionbox Studio has launched PlayClub, a virtual book club geared for non-actor theatre-lovers. When you sign up, Visionbox sends you a play script. (For the next meet-up on October 15, it's "Three Sisters" by Anton Chekhov.) Founding Artistic Director Jennifer McCray Rincon opens with remarks about both the play and the playwright, followed by group discussion. After that, "two of our actors perform a scene from the play, and then I work on the scene with them for a bit in front of the audience," she said.
Then they do the scene again, demonstrating an alternative acting approach to the same text.
"We have been told over and over that watching actors re-work scenes like this is the most intriguing part of our work," Rincon said. "It is also an excellent way to gain appreciation for the literature and language of theatre."
For some strange reason, "Visionbox seems to be thriving in this odd time," Rincon added. "We have not canceled any classes or performances this year." Sign up for PlayClub here
Briefly …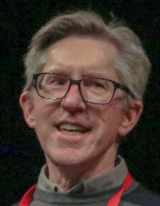 The DCPA Theatre Company has announced a part-live, part-virtual memorial service for Director of New Play Development Douglas Langworthy on October 24. Langworthy (pictured) died in March just days before the COVID shutdown, preventing any opportunity to properly remember him at the time. Because of the need for social distancing, anyone who wishes to observe the celebration may do so only via Zoom. Register here. ...
The Arvada Center will present "Trick Art Treat," an opportunity for families to safely gather for Halloween activities from 1-5 p.m. on Saturday, October 31. The Arvada Center will essentially create a cul-de-sac of stops for small groups as they move around two bays of the Arvada Center's outdoor parking lot. Look for a full story with more details here next week …
On Friday (October 9), Su Teatro debuts "Short, Funny and Weird," a new weekly virtual series made up of skits, songs and short stories. It's free, with a $10 suggested donation. Information …
The city's Denver Cares Venues Relief Fund is still accepting applications through October 18 for $1,000 stipends targeting self-identifying independent artists in COVID-related financial need. The fund is prioritizing (but is not restricted to) artists from historically marginalized communities. Apply here ...
And finally: This is your final week to download the Arvada Center's radio play "Trifles," featuring Abner Genece, Kevin Hart, Sheryl McCallum, Emma Messenger and Philip Sneed. After Sunday (October 11), the series shifts to Zachary Andrews' one-man "Dracula." Read more here
John Moore was named one of the 12 most influential theater critics in the U.S. by American Theatre Magazine during his time at The Denver Post. He also is the founder of The Denver Actors Fund, and is now contributing reports on the arts community for the Arvada Center. Reach him at culturewestjohn@gmail.com.