For nearly 30 years John Gratkins watched over the Arvada Center as if it was a work of art itself. As the Facilities Manager, he brought a matter-of-fact vibe to our creative world that kept us grounded and secure. John passed away unexpectedly in early March 2021.
Many of our staff members have known him since they were children, and we wanted to give people whose lives he touched a chance to reminisce. There has been so much change in the past year, and as we are looking forward to the return of live theatre and a sense of normalcy, it is bittersweet to do so without John.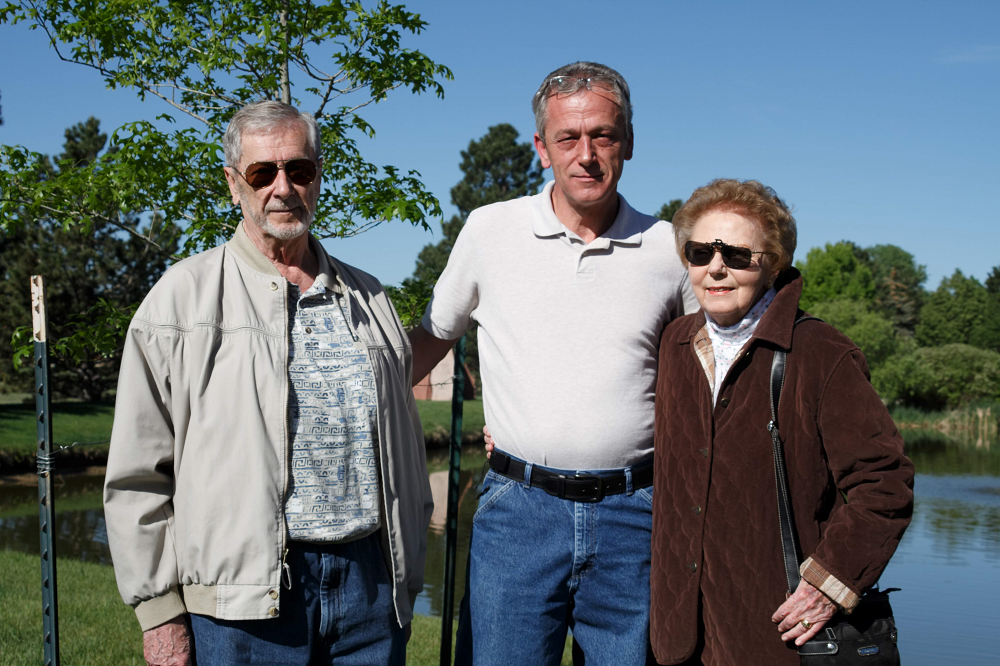 John Gratkins (center)
---
"John was the calming center of the Arvada Center. A stable and comforting presence that could always be counted on in any situation. The Arvada Center was his home and he made sure that everyone that came to the Arvada Center was welcome. As for me, I will miss our little talks. More often than not, I would find him in the Amphitheatre Front of House. We would talk of Zambonis, Parking Lot Lights, Weather Apps, Contractors that Worked (and didn't), Star Wars, His Parents and Sister, the Squiggles Water Feature (broken and always being fixed) and the Talking Trash Cans (a long time ago!). We miss you, John. And thank you."
– Keith Ewer, Music Director
---
"In late summer of 2010, the City Hall Annex building was vacated for major systems updates, etc. The Housing Division (as we were known back then) moved temporarily to the Arvada Center. John was a key player in finding space for everyone in my work group. He was extremely helpful to ensure we had what we needed as we got settled. Then, he made sure we were doing ok once we had settled. I feel I can speak on behalf of our work group, everyone appreciated all the work John did to make us feel welcome, supported, and included into the community at the Arvada Center. When we moved back to our building, John was so gracious that he gave us each a beautiful pottery piece that he purchased from the works done at the Arvada Center. All of us felt comfortable during our short time together at the Arvada Center and this would not have been possible without the care and dedication that John put into his work. He was a very caring individual, and would go the extra mile to help people. I cannot express what a tremendous loss this is for his family, the Arvada Center as well as the City Hall staff who had the opportunity to work with him."
- William Quintanilla, City of Arvada employee
---
"Pre-COVID I worked in the office posting volunteer hours and I looked forward to seeing John whenever I was there always with a cup of coffee in his hand. I would knock on the door and if he was in his office he would let me in so I wouldn't have to stop at the box office to tell them I was there. His was usually the first face I saw and he always had a smile and a "Good Morning" greeting. If I needed help with the computer, he was always there to help. I looked forward to his visit when we had Volunteer Council meetings as a lot of the time he would come in and visit before our meeting started and kept us abreast of what was going on at the Center. John, to me, was Mr. Arvada Center and I will miss him. It won't be the same without him."
– Nancy Bickford, Volunteer
---
"Several years ago, I worked on a committee coordinated by the City to put together the text for the Arvada History Walk brochure. The text was also used on the numerous signs placed around the City on the Arvada History Walk. One of those signs was placed out by the curb in front of the west entrance to the Arvada Center. Over the years some of the signs on the Walk deteriorated a bit, including the one at the Center. A friend of mine noticed it first and brought it to my attention. It really looked bad. I was embarrassed that I had never noticed it myself being that I was at the Center so often! The plastic casing was cracked and the text panel underneath was weathered. I sent an email to John asking if something could be done. In the next day or two, that sign completely disappeared. About a week or so later, a new sign stood in its place. John never said a word to me. Just quietly got it fixed. So typical of how this dear friend of the Center handled things."
- Mary Joe Giddings, Volunteer
---
"I worked with John for over 15 years. I was that young twenty-something and he was that seasoned veteran when I first started. His hair wasn't white but quickly turned white after a few years of working with me...I always wondered if there was a link. My job as the Director of Galleries and Curator is to fill the Arvada Center with art. Art isn't always something you just simply hang from the wall...many times it requires hanging from the ceiling, attaching to a beam, putting huge holes in weird places, moving huge stuff in tight spaces, or securing something to the floor. Because of these varieties of types of work, I worked closely with John to make sure the building and our patrons were always safe. I always joked with him that "I wouldn't be doing my job if I wasn't driving him crazy." We had our challenges and moments as all colleagues have, but we had respect for each other and John always helped find a solution and helped make art happen. So there's not one memory of John that I can say sticks out. I think of the many projects he had his hands on and how they always came out successful....the Black Box addition, the plaza concrete, the polished concrete in the galleries, the dance studios, the ceramic studio upgrades, the Digital Lab, the donor lounge, the lighting on the amphitheatre, the LED monument sign, and yes...even the parking lot lights which was a project that never seemed to have an end for him.
One of my projects that never seemed to have an end was the refurbishment of a sculpture out on our grounds. This sculpture was made of flagstone, so John volunteered to go with me to the quarry outside of Lyons and help select the stone. This was probably the first time John and I really got to know each other better. I learned that he attended Westminster High School, loved hockey, he was a dog lover, and many of those small other personal things one never learns until they sit down and actually talk to someone. Well, we selected the stone and organized the delivery date. Unfortunately, I was out of town when the delivery happened so John took the lead of the project. I called him while on vacation and asked how it went...he said fine....later I learned it DID go fine except one of the stones slipped and smashed John's pinky. It was broken and had to be bandaged for some time. That was John though...never really brought up his problems or issues. He just solved others!"
- Collin Parson, Director of Galleries and Curator
---
"I had a blast working with John. It never felt like "work." He was the best manager you could ask for. Far too many stories to share, but as for my favorite image, this: watching John help guide a class of Arts Day preschoolers from room to room looking like some proud Papa Goose. Beyond adorable."
– Christopher Willard, Former Arvada Center employee (Front of House Manager 1996-2005)
---
"I had the pleasure of working with John for nearly 10 years. John was so dedicated to helping the Arvada Center succeed, you would be hard-pressed to find a harder worker. John's tough exterior was just a cover for how caring he truly was. I will surely miss seeing him around the Center every day."
– Andrew Terek, Director of Finance