MEET JESSIE PAGE
WARDROBE SUPERVISOR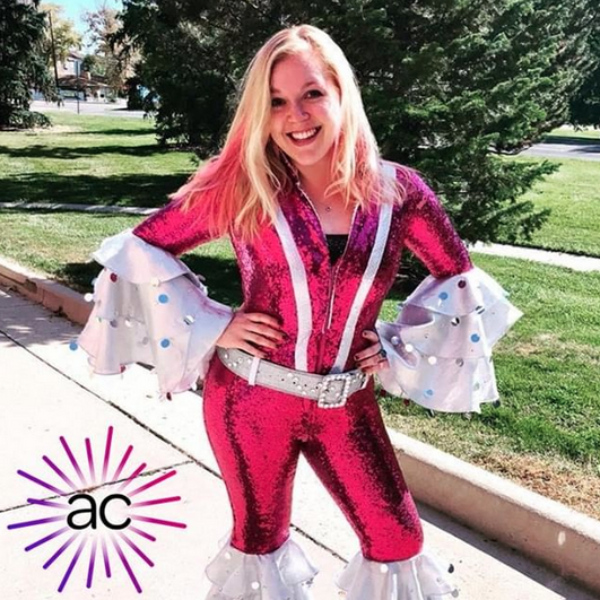 Wardrobe Supervisor Jessie Page is nothing if not pretty in pink.

NOTE: As we look to reopen our doors and reignite the arts, one thing becomes clear: The key to our creativity is our people. Songs are not sung, sets are not built, choreography is not taught, and canvases are not painted on their own. In our ongoing "Humans of the Arvada Center" series, we are highlighting the heartbeat of the Center: The people who make up the Arvada Center family.

By John Moore, Senior Arts Journalist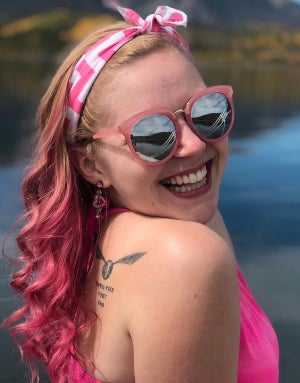 It's been said that the color pink strikes the perfect balance between gentle and fierce – so, naturally, it's Jessie Page's signature color. Her parents have called the Arvada Center's Wardrobe Supervisor "Sweet Pea" from the time she could walk "because her heart is so pure and she's full of compassion," said her father, New York-based actor Paul Page.
Oh, and "she talks like a sailor," he added ... "and she loves to drink." (Her stepfather says: "Jessie even makes profanity adorable.")
Think of Jessie Page as sparkling pink champagne.
"Jessie is a very social extrovert who just wants for people to be kind to each other, and for there to be happiness in the world," said Paul Page (pictured with Jessie, below right), who has performed in 13 plays and musicals at the Arvada Center, starting with "Moon Over Buffalo." Her father began taking Jessie with him to the Arvada Center with him when she was just 4 years old. Jessie's mother, Kathy Page, worked in the Arvada Center wardrobe department for five years. So, you might think she was destined to work there some day.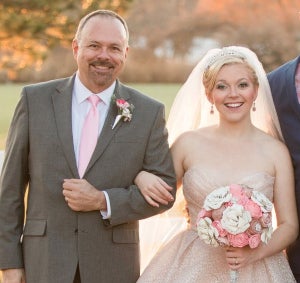 And she has, ever since she was 19 years old. That's when she was hired into the costume shop for the Arvada Center's 2012 production of "Chess," followed by "Legally Blonde," a musical Jessie had fallen in love with when her father took her to see it on Broadway. (And despite the prominent pink in her current coif, make no mistake – Jessie is legally a blonde.)
Jessie began taking dance classes when she was 5 and continued them throughout her childhood. She joined her middle school's band in 5th grade. Her mother taught Jessie how to sew at an early age, and would always make her daughter the best Halloween costumes on the block.
"Jessie's mother and father were the perfect blend," said Paul's husband, Eugene Ebner. "Jessie always says she got her appreciation for costuming from her mother, and her love for sparkle and fun from her father."
"Jessie got her appreciation for costuming from her mother, and her love for sparkle from her father."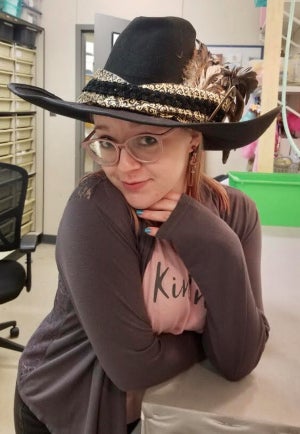 So, while you would be correct to say Jessie Page has been involved with theatre for her entire life, she wasn't necessarily destined to a life in the theatre. That seemed more likely for her brother, Zach, an actor, director and now teacher. Zach showed more of an interest in following in his father's footsteps, auditioning his way into Denver School of the Arts while Jessie chose to attend Lakewood High School.
"There was a long time when I thought Jessie was going to get into a more humanitarian field such as nursing or teaching, because she's the kind of person who would give you the shirt off her back," said Paul Page. "And she was way more into the Jonas Brothers than showtunes."
But Jessie's flair for fashion began to emerge in high school. "We saw her dressing more stylishly – like wearing coats with big collars and dramatic hats," her father said. Not to be contrary, but Ebner remembers meeting Jessie for the first time backstage during the Country Dinner Playhouse's 1998 run of "Guy and Dolls," when Jessie was 5. "She was wearing a tutu, and she said to me, 'Look at my pretty pink sparkle,' " Ebner said.
Jessie was hired into the Arvada Center's Wardrobe Department in 2012 as a dresser. She was promoted to her present title earlier this year, where she is now responsible for the maintenance, upkeep and appearance of all costumes while supervising all other dressers.
I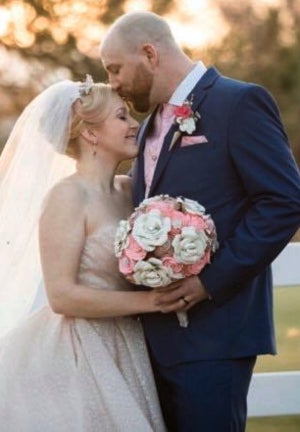 n 2014, she met Jared "JC" Williams (pictured at right), who previously had worked at the Arvada Center (and is back again now), but was at that time the Technical Director at BDT Stage in Boulder. JC is also an actor, and he returned to the stage last fall in the Arvada Center's "Plaza Suite." They were married in November, making them just the latest of the Arvada Center's many creative couples.
"I think it's a case of opposites attracting in a perfect way," Ebner said. "They don't actually have a lot in common other than theatre. They just enjoy each other. They really made a friendship together, and in doing so, they opened each other up to discovering all kinds of new things."
Earlier this year, Jessie had the chance to design costumes for Sasquatch Productions' staging of "Matilda, the Musical" in Parker. "She made my Mrs. Wormwood tear-away dress and hyped me up like a dang star," said actor Lindsey Kinney. "She is love and light and all things good in this Denver theatre community."
For her part, Jessie says she feels "super lucky" she was immersed in the arts from a young age. "Theatre is something that I have wanted to be around constantly," she said. "We all have our ups and downs or obstacles throughout life. But the one thing that has always helped me overcome every problem is theatre.
"We have such an incredible theatre community in Denver and at the Arvada Center, and I am just so grateful to be a part of it."
Now, when will there be a Jonas Brothers Broadway musical to make her life complete?
Contact John Moore at culturewestjohn@gmail.com
To learn more about Arvada Center theatre programming, go to arvadacenter.org/theatre
To follow the Arvada Center's #HumansOfArvadaCenter campaign, go to instagram.com
VIDEO BONUS: Meet Jessie Page and JC Williams

READ MORE HUMANS OF THE ARVADA CENTER:
DIRECTOR OF GALLERIES COLLIN PARSON
DIRECTOR OF DANCE CHRISTINA NOEL ADCOCK
WARDROBE SUPERVISOR JESSIE PAGE
CHILDREN'S THEATRE HOUSE MANAGER CAL MEAKINS
PRODUCTION MANAGER ADAM STOLTE
EDUCATION DIRECTOR LISA LEAFGREEN
PATRON SERVICES REP ABYGAIL ROSALES