MEET CAL MEAKINS
CHILDREN'S THEATRE HOUSE MANAGER
Cal Meakins has been 'Puttin' it Together' since a very early age.

NOTE: As we look to reopen our doors and reignite the arts, one thing becomes clear: The key to our creativity is our people. Songs are not sung, sets are not built, choreography is not taught, and canvases are not painted on their own. In our ongoing "Humans of the Arvada Center" series, we are highlighting the heartbeat of the Center: The people who make up the Arvada Center family.

By John Moore, Senior Arts Journalist
This is going to sound like an odd thing to say about a 20-year-old, but the reason Cal Meakins has been given so much responsibility at the Arvada Center at such a young age is because he already has proven himself, time and time again.
"Any opportunity you throw his way, he grabs hold of it, and he is so gung-ho about it that you just want to keep giving him more opportunities – because he will make the most of them," said Gavin Mayer, director of the Arvada Center's upcoming summer youth musical, "Sweeney Todd" (which will have auditions on Sunday, June 7.) Cal not only will be the Stage Manager, but he will assist Gavin in teaching a separate "Teen Intensive" class for those ages 14-18 who will be working on the technical aspects of the show backstage. At this point, the Arvada Center plans to present the musical in person in July, using social-distancing protocols. "It is going to be a great challenge," Gavin admitted.
Cal is also the Arvada Center's Children's Theatre House Manager, and he has been situationally hired to work backstage on mainstage shows as what is called an "overhire electrician."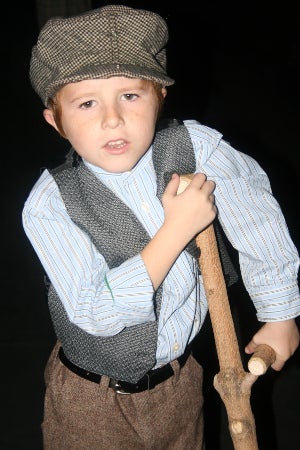 Oh, and he is a performer, too. Has been since he was cast to play wee Tiny Tim in the venerable Longmont Theatre Company's holiday staging of "A Christmas Carol." He recently returned there in the ensemble of "Anatomy of Gray."
"I think I've always been a performer at heart, but when I was around 5, my brother and I got into the habit of memorizing full movies and repeating them rapid-fire," Cal said. "Think Abbott and Costello meet 'Brother Bear.'"
In an effort to channel all that creative energy, Cal's mother got all four of her children to audition for "A Christmas Carol." Cal and his twin brother, Olin, ended up playing Tiny Tim on alternating nights. (Cal is pictured at right.) "However, neither of us wanted to take even one night off from performing, so we also alternated as a guest at Fezziwig's party," Cal said. "I remember spending a lot of weekends helping to build the set – OK, watching my Dad helping to build the set – and being mesmerized by all the different design elements coming together."
If not for the coronavirus, Cal would have just finished playing Reggie in Coal Creek Theatre of Louisville's "First Date," and he would be in rehearsal right now to play a leading role in "Bare, the Musical," a coming-of-age story that was to have been the inaugural production by the new Forge Light Theatreworks in Aurora. At 6:30 p.m. on Saturday, June 13, Cal WILL be playing the role of Prince Hal in a national Zoom reading of "Henry IV" featuring actors from Arizona to Alaska.
So yeah, he's done a lot for 20.
And did we mention the Longmont native and graduate of Niwot High School didn't even arrive at the Arvada Center until the fall of 2018?
"Cal came to us in through the Diversity in the Arts Internship," said Arvada Center Content and Grants writer Leslie Simon. "He was so awesome, and we liked him so much, that we hired him to house-manage the children's theatre."
"Cal is going to inspire people to be better performers and humans in general for many years to come."
Cal was in the inaugural class of the Diversity in the Arts Internship run by Kirsten Lang, herself an actor who made a spectacular debut for Phamaly Theatre Company as Little Red Riding Hood in its 2018 production of "Into the Woods."
The internship was designed to advocate for further diversity in the arts at local cultural institutions and beyond. The goal is to create a pipeline of arts leaders who will represent communities of color and other generally underrepresented populations in Colorado's arts organizations – and to normalize equity and diversity within those organizations. Cal calls that six-month opportunity "a privilege" that coincided with his own spring awakening.
"In recent years I have learned how to champion my pride as a gay man," he said. "I think a lot of people knew I was gay before even I did, and I'm incredibly lucky to have such a supportive family and community. But coming out of the closet was — and still is — a big deal for me."
His epiphany began while he was reading Tony Kushner's magnum opus "Angels in America" during his freshman year of college. "I felt giddy to be actualized in a medium that I understood so closely – my own personal language," Cal said.
"Bare, the Musical" will still happen, but not likely now until January. Cal will play Peter in a contemporary story that follows a group of teens as they wrestle with their identities, sexuality and religion at a co-ed Catholic boarding school.
Director Keith Rabin-Hoover had not met Cal when he showed up for his audition, but he knew right away that Cal was right for the part – and the show.
"If you saw the way he conducted himself in the room, you know why Cal is who you want working for your theatre company," said Rabin-Hoover. "He's kind, dedicated and well-liked by everyone he is around. He treats everyone with love and kindness.
"The fact that Cal has got it so together at such a young age tells me that he is going to inspire people to be better performers and humans in general for many years to come."
Cal says his personal evolution will be an ongoing process, but one made easier by both his family and the existence of theatre in his life.
"I'm the youngest of four and had the awesome fortune of having a twin brother, so I rarely, if ever, spent any of my childhood by myself," he said. "On top of that, we're a very musical household. Throw a stone in any direction and you'd probably hit an instrument."
And of theatre, he added: "There is a tremendous practice of mindfulness built into art, and theatre in particular. I'm prouder and more compassionate with each return."
Contact John Moore at culturewestjohn@gmail.com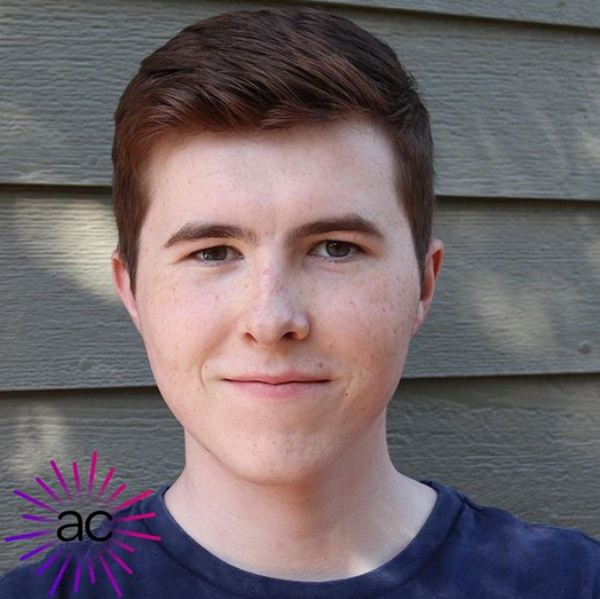 To learn more about Arvada Center summer classes, go to arvadacenter.org/education
To follow the Arvada Center's #HumansOfArvadaCenter campaign, go to instagram.com
MEET MORE HUMANS OF THE ARVADA CENTER:
DIRECTOR OF GALLERIES COLLIN PARSON
DIRECTOR OF DANCE CHRISTINA NOEL ADCOCK
WARDROBE SUPERVISOR JESSIE PAGE
CHILDREN'S THEATRE HOUSE MANAGER CAL MEAKINS
PRODUCTION MANAGER ADAM STOLTE
EDUCATION DIRECTOR LISA LEAFGREEN
PATRON SERVICES REP ABYGAIL ROSALES