MEET CERAMICS INSTRUCTOR JOHN R. HAMILTON III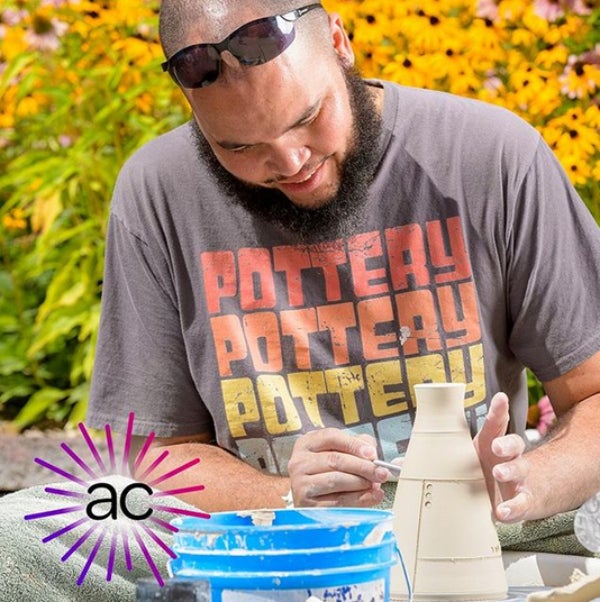 How a challenging multiracial upbringing led to a life on a ceramic rocket ship

NOTE: As we look to reopen our doors and reignite the arts, one thing becomes clear: The key to our creativity is our people. Songs are not sung, sets are not built, choreography is not taught, and canvases are not painted on their own. In our ongoing "Humans of the Arvada Center" series, we are highlighting the heartbeat of the Center: The people who make up the Arvada Center family.
By Leslie Simon and John Moore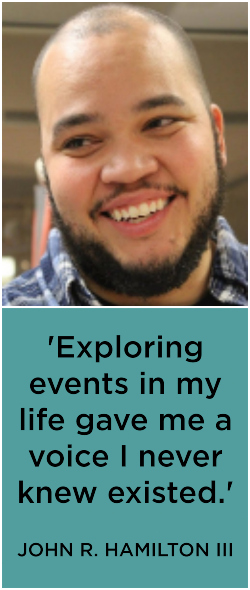 Since his arrival in 2012, John R. Hamilton III has been a studio assistant, then instructor, then for a time Artist in Residence at the Arvada Center. As our expert kiln loader, John keeps all the student work moving through the studio. (A kiln is a furnace or oven for firing pottery.) He holds a BFA in Ceramics and a BA in Arts Education from Fort Hays State University in Hays, Kansas.
How did your childhood influence your art? As a child, quotes like, "Space, the final frontier…" from "Star Trek," and, "In a galaxy, far far away…" from "Star Wars," have always pumped excitement into my body, forcing my mind to wander. Growing up and even presently, from time to time, I've investigated the deep black of the night sky imagining I'd be on the bridge of the Starship Enterprise, the cockpit of an art-deco style rocket ship or approaching the Death Star in an X-Wing fighter jet full of excitement.
What was unique about your upbringing? I was fortunate to spend almost every weekend of my adolescence with my grandmother "Gramcracker," the last living of my grandparents. She is a very inspirational, loving and intelligent woman who shaped my ideals and beliefs. She survived cancer multiple times in the '90s and a brain tumor that took hearing away in her left ear and left her with Bell's palsy from the tumor. These events gave her the strength and desire to have something to live for and is now a Great Grandmother to my children. Her outlook on life has influenced my being and gives me an ever endless goal of who I want to become as I move through my personal obstacles.
What are some of those obstacles? They have mostly been about identity – something I know many of us struggle with. Asking ourselves where we fit in, and why is it so important to do so. My story mirrors so many others'. My parents divorced when I was young. My father was in and out of my life during childhood. I saw a number so-called male role models enter and exit my life, and one who stayed. Living in poverty. Moving to a rural area during high school far from friends and family. And what all this meant as a multiracial young male. Experiencing racism for the first of many times. I have found purpose in using these things as steppingstones. Ultimately, not allowing these experiences to define me, but allowing them to shape who I am becoming. My purpose is to be a decent human people can look to for advice.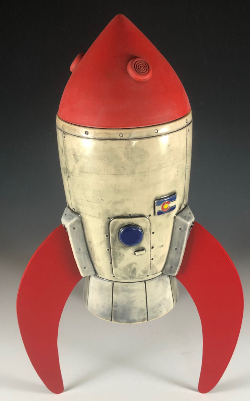 How did you find the arts? I've always loved drawing and using my imagination. My calling to the arts came during community college when I discovered an affinity for clay. That was the first time I saw the medium as a way to convey emotion. As I moved forward with my college career, I began to find ways to communicate my message. Shortly into working on my BFA, I began exploring how events of my life have made an impact on me. My art became about the child at heart, and play. But more important, identity. That began discussions of what I viewed as the importance of the intermittent lack of the male role model in my life. This gave me a voice I never knew existed, and it became a goal of mine to pursue art as a career.
How did ceramics become part of your life? As I grew older and began to make the world of ceramics a part of my permanent life, I was able to combine two different worlds I love by grabbing inspiration from pop culture and life experiences. Working in clay allows me to sketch and draw in the third dimension, transferring ideas in my mind to come to fruition. As I begin to shape the clay, my mind wanders just as much at my potter's wheel as it did when my imagination ran away in adolescence. Influences from different periods in art also have driven me to create the work I do. From artists like Roy Lichtenstein to Piet Mondrian, I find myself using simplistic colors for decoration and dark lines outlining the curves of the clay.
What appeals to you about ceramics? Each piece I create on the wheel, although similar, allows no two pieces to be exactly alike. A distinctive character is born as I slide the cut-off wire under every piece. I want my pieces to be both functional and sculptural, to have a place in a cupboard and to be displayed as the focal point of a room. I ensure that each pot is highly functional, thinking about the piece and its jobs, beyond holding liquid in a cup or food on a plate, I strive to achieve a sculptural status as well. The relationship I hold with ceramics has allowed me to explore and learn, but most important, to continue to play.
How have the obstacles you have faced shaped the man you are today? Being a father and husband. I give credit to my amazing wife and children for aiding me in my endless journey to become a better person. My wife and I have created a motto for our family: "We have done better with less." We should all strive to be better people than we were in the past.
To follow the Arvada Center's #HumansOfArvadaCenter campaign, go to instagram.com
MEET MORE HUMANS OF THE ARVADA CENTER:
GALLERIES EXHIBITION MANAGER EMILY KING
DIRECTOR OF GALLERIES COLLIN PARSON
DIRECTOR OF DANCE CHRISTINA NOEL ADCOCK
WARDROBE SUPERVISOR JESSIE PAGE
CHILDREN'S THEATRE HOUSE MANAGER CAL MEAKINS
PRODUCTION MANAGER ADAM STOLTE
EDUCATION DIRECTOR LISA LEAFGREEN
PATRON SERVICES REP ABYGAIL ROSALES