CLEO PARKER ROBINSON DANCES BACK TO THE ARVADA CENTER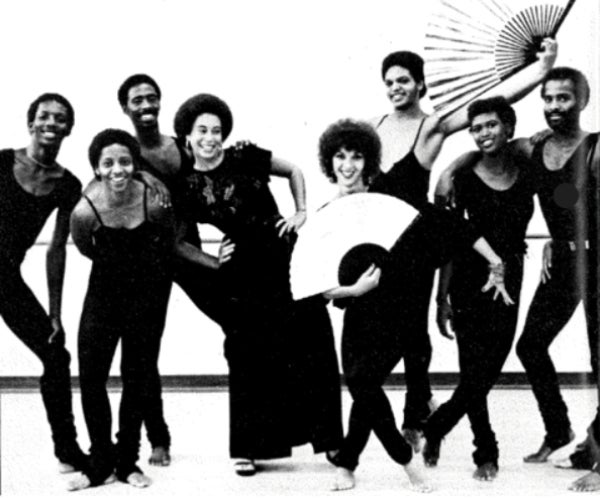 Cleo Parker Robinson and her dance company at the Arvada Center in 1983.

'Out of the Box' webcast will re-live historic 'feeding' with Dr. Maya Angelou
By John Moore, Senior Arts Journalist
Cleo Parker Robinson glided into the Arvada Center's mainstage theatre for the first time in a quarter-century last week. And as befitting her regal stature, the dance legend sported a bejeweled COVID mask that both celebrates her seminal company's 50th season and makes plain the hard reality of the ongoing pandemic that has grounded most every aerial leap anywhere since March.
"I think we are in a divine space at this moment," said the returning Robinson, who has built her dance school and ensemble into an internationally esteemed cultural jewel since 1970. She was talking about both this moment in time as well as the performing-arts center in Arvada where she presented two legendary dance works in the 1980s: "Run…Sister…Run" and "Lush Life." Robinson will revisit those works as part of "Out of the Box: A Virtual Celebration of Dance," a major streaming event being presented by the Arvada Center in partnership with Cleo Parker Robinson Dance. The recorded world premiere drops at 8 p.m. August 22, and will remain available for online viewing through August 28.
"This is nostalgic for me," Robinson said. "I have so many memories of these extraordinary moments that we showed here, and that really expanded our community. The Arvada Center was another home for us in those days – like we were planting our seeds here."
In "Run…Sister…Run," presented at the Arvada Center in 1981, Robinson portrayed American professor and political activist Angela Davis, whose guns were used in an armed takeover of a courtroom in California in 1970, leaving a judge and three Black men dead.
"Lush Life" was a historic collaboration between Robinson and Dr. Maya Angelou that had its world premiere at the Arvada Center in 1983. Angelou, the revered poet, memoirist and civil-rights activist who died in 2014, has remained a legendary figure in literature, theatre, TV and film since the release her first autobiography, "I Know Why the Caged Bird Sings," in 1969. Angelou, herself a former professional dancer, performed in the Arvada Center piece, and offered two guest lectures.
"I loved it because Maya knows something that non-dancers don't know," Robinson said at the time. "It's a zest for life, a certain sensuality, a body awareness and self-assurance in the way you walk and carry yourself. I feel we are connected."
The "Out of the Box" webcast will consist of dances and interviews recorded last week at the Arvada Center, as well as archival footage introduced by Robinson and co-founder Schyleen Qualls Brown. Rounding out the program will be "Dancer's Perspectives" segments where individual dancers in the company will perform pieces from the Cleo Parker Robinson Dance catalogue and talk about what they mean to them.
'I hope this is the beginning of bringing Cleo back every year.' – Arvada Center President and CEO Philip Sneed
"We're thrilled to be presenting in partnership with Cleo Parker Robinson Dance again," said Arvada Center President and CEO Philip Sneed. "We've been talking about this for a number of years, and we had committed to a live performance on August 1 – not knowing then what was going to happen with COVID. All of the summer concerts we had scheduled for this summer have had to be canceled, but we are so grateful that we've been able to a come up with a virtual equivalent for this one. It means a lot to us to have this company back at the Arvada Center."
When the Arvada Center first proposed bringing Robinson and Angelou together in 1983, writer Kimberly Roush called the resulting creation not so much a collaboration as "a feeding": A celebration of what she called "the goodness of swing and sway and speech."
By 1983, Robinson already had toured her nomadic company throughout Colorado, the U.S., Africa and Central America, including an appearance at the Lincoln Center in New York. Angelou already had published four books of poetry. She had just released her instant inspirational classic, "Phenomenal Woman." ("Pretty women wonder where my secret lies. I'm not cute or built to suit a fashion model's size.")
This was a big deal – that almost never got off the ground.
"It took us awhile to get together," Robinson said. "Maya would ask me to call her at 6 a.m. at her home in North Carolina, which was 4 in the morning here, so I had to set the alarm. We did that for a while but it never seemed to work." When Angelou had a Denver book signing date scheduled, Robinson arranged to pick her up at the airport for some quality planning time – a plan that was thwarted when Angelou's luggage went missing. "So that was not a good time to talk and figure out what we were going to do," Robinson said with a laugh. Angelou then invited Robinson back to her home in North Carolina, where they jointly created the three-hour multi-media work that became "Lush Life," which also included poetry by some of Angelou's other favorite authors.
Robinson called "Lush Life" "a celebration of sharing the feeling of how connected we really are. Racially, as sisters, and as the whole human race." Arvada Center audiences, she said, "absolutely loved it. It was pretty amazing."
But with only two performances, very few have actually seen any of it – until "Out of the Box" brings it back to life, both through archival footage and newly performed dances.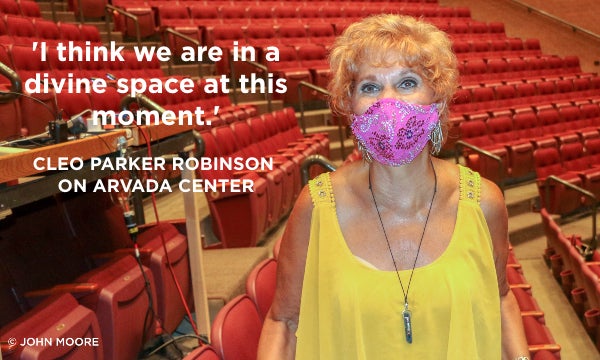 Robinson had to surrender her aspirations for a fully realized 50th anniversary season months ago. "But I love the fact that we are doing what we can here at the Arvada Center because we have all of these amazing connections, and I just think there is a lot to celebrate."
Those connections include longtime Arvada Center Dance Coordinator Christina Noel Adcock (also the ballet mistress for Cleo Parker Robinson Dance); and Ashi K. Smythe, an original cast member in Broadway's "The Lion King" who was working as Robinson's company drummer when the Arvada Center hired him as a full-time dance instructor in 2012. Smythe's daughter, Samiyah Lynnice, is a member of Robinson's ensemble and appears in "Out of the Box."
For Sneed, the renewed partnership with Cleo Parker Robinson Dance is a strong and perfectly timed signal to Arvada Center audiences of its commitment to bolster its overall dance program.
"We do not have a dance company here," Sneed said. "When I got here in 2013, we were presenting the Colorado Ballet and Wonderbound. We added 3rd Law Dance/Theatre, and we are trying to get more dance here. So to be attached to this company on the occasion of their 50th anniversary season is a huge honor for us. I hope this is the beginning of bringing Cleo back every year."
John Moore was named one of the 12 most influential theater critics in the U.S. by American Theatre Magazine during his time at The Denver Post. He also is the founder of The Denver Actors Fund, and is now contributing reports on the arts community for ArvadaCenter.Org. Reach him at culturewestjohn@gmail.com.